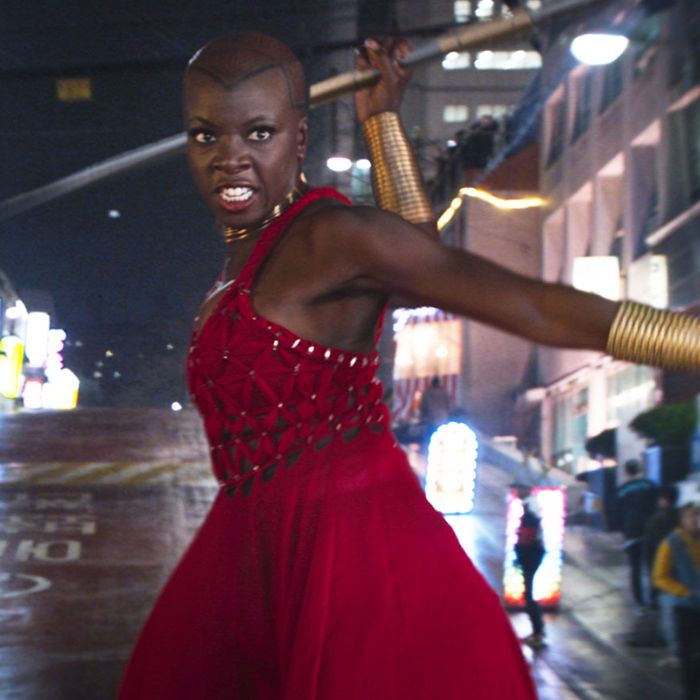 Danai Gurira in
Black Panther
.
Photo: Marvel Studios
Marvel has remained cagey on which films the studio is readying beyond the fourth Avengers film out next summer, but based on rumors and buzz, the future could be female. Next year will see the release of the first Marvel Studios film to topline a woman — Captain Marvel, starring Brie Larson — and the company recently hired a writer to pen a stand-alone Black Widow movie that would star Scarlett Johansson. That's on top of all the female characters who pop in Black Panther, like Danai Gurira's Okoye, Lupita Nyong'o's Nakia, and Letitia Wright's Shuri, as well as recent Marvel Cinematic Universe addition Tessa Thompson, who made a big impression in Thor: Ragnarok and is said to have pressed Marvel Studios head Kevin Feige on the possibility of making a film led by a collection of these breakout actresses.
"It is an embarrassment of riches," Feige recently told Vulture with a big grin on his face. "Even watching the audience at the Black Panther premiere respond to Lupita, Letitia, and certainly Danai in their action sequences … you watch Danai spinning around in that casino, taking out dozens of people, and you go, 'Of course you can make a whole movie about that!'"
But when might Marvel pull the trigger on such a project? Thompson's Valkyrie proved to be a great partner for Thor in Ragnarok, but with that franchise's star Chris Hemsworth coming to the end of his contract, there's no guarantee that a fourth Thor film will be made. Is it a studio priority to find another place for Thompson to do her thing?
"It is all about figuring out when and how," admitted Feige. "But by the way, many of them have already filmed additional scenes in upcoming movies, so some of that is gonna come sooner rather than later. All of them will be seen again."
In the short term, Feige is likely referring to this May's Avengers: Infinity War, which finds room for nearly every prominent Marvel character thus far and will include appearances by Gurira, Wright, and Thompson. They'll be taking on series baddie Thanos (Josh Brolin), who arrives with a crew of his own mo-capped alien henchpeople including the wonderfully named villainess Proxima Midnight. "There are interesting people doing the voices," of those henchpeople, said Feige. But don't expect him to reveal exactly who he's hired just yet, though any actress would be lucky to have "Proxima Midnight" on her IMDb page. "You'll probably know when you see the movie," said Feige.
After Infinity War but before next year's still-untitled fourth Avengers film, we'll get two movies with significant female additions, including the aforementioned Captain Marvel. Paparazzi photos recently leaked featuring Larson in costume, though she was dressed in green and black instead of the character's familiar red-and-blue color scheme. Feige was nonchalant about the unplanned reveal.
"If you want to film out in public — and Captain Marvel has a lot of scenes that will be shot on location — it's gonna happen," he said. "Everything is filmed [by paparazzi] nowadays, so years ago, we decided, 'If it's gonna happen, let it happen.' Most people are savvy enough to know they're looking at a behind-the-scenes photo, completely out of context. So we don't do things like rush photos. We released some concept art of her with different colors. People online have correctly identified what's going on there."
And then there's Michelle Pfeiffer, who will join Ant-Man and the Wasp as Janet Van Dyne, the long-lost wife of Hank Pym (Michael Douglas) and mother to Hope (Evangeline Lilly). The character is an enormously important one in the comic books, and Pfeiffer herself has already given us a career-best contribution to the superhero canon with her performance as Catwoman in Batman Returns. That's a whole lot to live up to, but Feige guarantees that Pfeiffer will deliver.
"I don't want to say too much, but I will say that's she's every bit as iconic and amazing in this part as you would imagine," he said. "People ask sometimes about movie stars and star power and who's the most exciting person to be around, and the truth is that once you get to know them as people, they don't feel like movie stars — everybody is just a super-impressive human. But in a room full of movie stars, Michelle Pfeiffer rises to the top." Feige recently corralled all of the actors from his films into one big tenth anniversary photo, and it wasn't Robert Downey Jr. or Chris Pratt who had everyone turning their heads. "You can tell how big Michelle is," said Feige, "because all the other movie stars are going, 'Is that Michelle Pfeiffer over there?'"