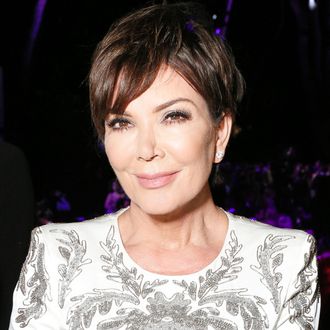 Kris Jenner.
Photo: Matteo Prandoni.com/BFA
Long may that green-screen reign. When Joel McHale bowed out of hosting E!'s The Soup in 2015, his bitingly satirical musings about the reality TV content mill departed with him, which will now be finding a new home thanks to Netflix's The Joel McHale Show With Joel McHale. Unsurprisingly, one of the reasons for The Soup's success was because of his taking aim at E!'s own call-sheet of stars — including, of course, the Kardashian family, a fact of which angered its matriarch on many occasions. "Way back when, Kris Kardashian would complain about our jokes, and Ted would literally go, 'Hey man, Kris called, can you just lay off of her for a week?' " McHale explained in a new Variety interview, referring to former E! head honcho Ted Harbert. "It was like our softball went into our yard and they were like, 'Just don't throw it over the fence.' So that was cool and that's as far as it went with him, but when he left, things changed and they definitely had a different feeling."
Specifically, McHale claims the second "administration" after Harbert's departure at E! completely banned The Soup from portraying the Kardashians in a negative light, which he attributes to a decline in the show's quality. "The [new] president said to my face, 'Don't make fun of the Kardashians. We don't want you to make fun of the Kardashians anymore.' So I was like, oh, this show is doomed because that's why the show worked, because we would make fun of ourselves," McHale explained. "It's like when Letterman made fun of G.E. in the '80s. You have to bite the hand that feeds you. The network really did not like when the Kardashians first came out and then we just said Kim Kardashian was only famous for having a big ass and a sex tape."
Now that's some interesting network synergy.