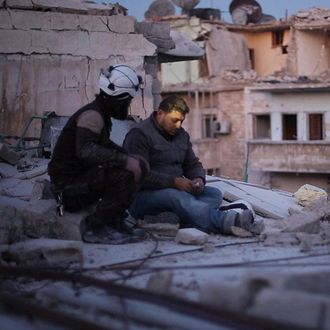 The crew behind the Oscar-nominated documentary Last Men in Aleppo are continuing their fight to attend next month's ceremony, according to TMZ. Producer Kareem Abeed, assistant director Hassan Kattan, and cinematographers Fadi Al Halabi and Thaer Mohamad are trying a new last-ditch effort to get approval from the Syrian government to travel to the United States. The filmmakers behind the first Oscar-nominated Syrian film are collecting as many after-party invitations as possible to show local consulates in Europe that they have a legitimate business need to travel to the U.S. Last week, the Syrian government refused to expedite the visa process for Abeed and White Helmets founder Mahmoud Al-Hattar to travel to Hollywood.
This isn't the first time foreign nominees have had to contend with travel barriers. Last year the Oscars ceremony took place immediately following the president's travel ban, and the nominated directors in the Foreign Language Film categories issued an unprecedented joint statement condemning Donald Trump and the travel ban. The Salesman director Asghar Farhadi won the Oscar for Best Foreign Language Film but declined to attend the show, instead sending a blistering statement to be read in his absence: "My absence is out of respect for people in my country," he wrote, "and those of other six nations that have been disrespected by the inhumane law that bans entry of immigrants to the U.S."
Correction: A previous version of this post misidentified Hassan Kattan's job title.