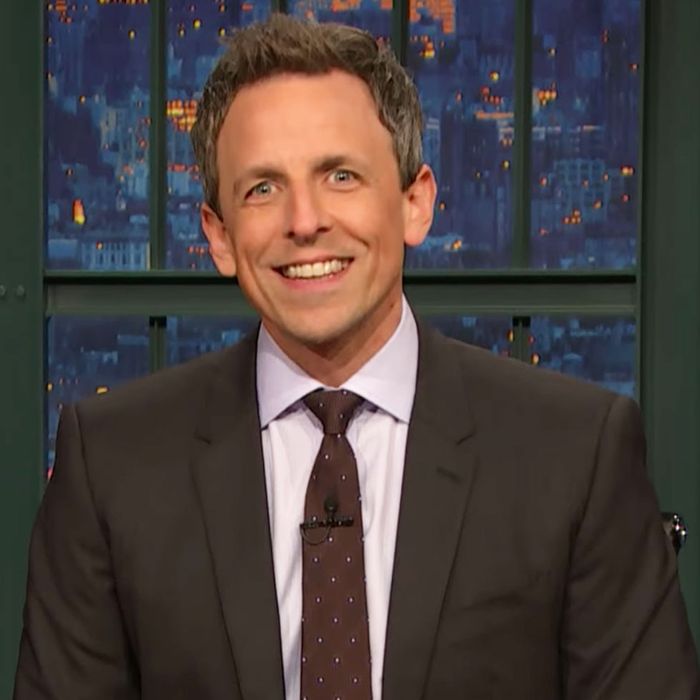 After President Trump delivered his first State of the Union address on Tuesday night, a few late-night hosts, including Stephen Colbert, Jimmy Kimmel, and Trevor Noah, went live with their responses that same night. Others, however, waited until Wednesday night to air their own feedback, and pick apart Trump's speech. Here's rundown of the second wave of replies:
Samantha Bee
Trump, according to Bee, "took a break from screaming about immigrants to scream slightly more politely about immigrants," in his speech. She pointed out many of the fabrications in Trump's speech, and also exposed how much worse the state of the union is than Trump described, before segueing into the infamous Nunes memo and Republicans' attempts to discredit the FBI. All in all, it was a glass-half-full type of speech, "assuming that glass was half-full of cyanide and I get to drink it."
Seth Meyers
Seth Meyers tackled the State of Union in two segments last night. He opened his monologue with, "President Trump gave his first State of the Union address last night. And I have to say, he did all white." Later, he devoted his A Closer Look to the speech. "Giving Trump credit for getting through the State of the Union speech is like giving a dog credit for wearing a sweater," Meyers began. "He didn't pick that sweater out, and he certainly didn't put that sweater on." He might look like a little gentleman, Meyers explained, but he really wants to get back to licking his balls.
Trevor Noah
While Noah provided his rebuttal on Tuesday, he recruited Roy Wood Jr. on Wednesday night to provide his own "State of the Black Shit," assessing how things are looking for black Americans, people of color, and Rachel Dolezal. The answer: not great. As for Trump, Wood said, "All this guy does is come after black people, he like sickle cell that's good at golf." But things are looking up elsewhere, as Wood pointed to black Americans' involvement in the election of Doug Jones in Alabama, the #MeToo movement, and the power that is Black Twitter. "God bless black people," he concluded. "God bless Gayle King, and God bless season two of Atlanta."