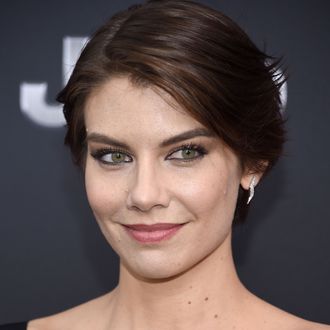 Lauren Cohan.
Photo: Dimitrios Kambouris/Getty Images
Lauren Cohan is reportedly in the middle of negotiations with AMC over her salary for season nine of The Walking Dead, and she may have just thrown a big bargaining chip on the table. According to The Hollywood Reporter, Cohan has signed on for a pilot at ABC called Whiskey Cavalier. The hour-long dramedy would star Scott Foley as a hotshot FBI agent named Will Chase, who goes by the handle Whiskey Cavalier, with Cohen playing opposite as an also-hotshot CIA operative named Frankie (code name, wait for it … Fiery Tribune). After she is assigned to kill a target that he is tasked with protecting, the two end up running an interagency team where a lot of professional and emotional high jinks will likely ensue (no word yet on whether or not Frankie kills her mark). And if we're being honest, Whiskey and Fiery will likely end up in a will-they-won't-they romantic tangle if the show goes to series.
The ABC option will either provide Cohan with an exit strategy from Dead or help her land a satisfactory payday at one of the biggest shows on TV. THR characterizes the actress's showdown with AMC as a "battle" for more money, and says that, "[a]lthough Cohan is not seeking salary parity with male leads Andrew Lincoln and Norman Reedus, her camp and AMC have been engaged in a months-long negotiation that remains far apart." So gird your feelings, Dead fans. Maggie might be off to join her beloved Glenn before too long.