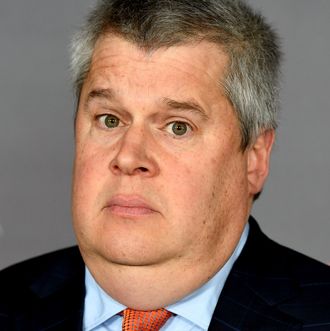 Snicket (Handler).
Photo: Angela Weiss/AFP/Getty Images
Multiple female authors have accused Lemony Snicket, the writer behind A Series of Unfortunate Events, of making sexually inappropriate comments, according to the Pacific Standard. The allegations against Snicket, whose real name is Daniel Handler, first surfaced last week after he signed a pledge launched by YA author Gwenda Bond stating that authors would not attend conferences that don't adopt and enforce harassment policies in the wake of #MeToo. Under Handler's name, author Kate Messner shared a story of a 2013 encounter she had with him on a train to a writer's conference. She claims Handler interrupted a conversation she was having with another author, asking if she was from the Midwest. "Are you a virgin, too?!" he allegedly shouted at her from the back of the train. She wrote that he later commented in front of other authors and their spouses, "These children's book events always turn into orgies!" Other women commented under her story with similar incidents.
Author Roseanne Parry claims Handler made a "crass and belittling" joke about her at a 2014 book event, which prompted a teenage girl who overheard the comment to tell him off. She wrote that Handler then said something "crass" to the teenager, and when told that he has to "stop talking like that to women," he "sauntered off without acknowledgement or apology." Author Allie Jane Bruce wrote that Handler once joked in front of a group of her young students about only having one testicle. Librarian Angie Manfredi wrote that when she told Handler at a 2011 publishing conference that she wasn't intimidated by him, he allegedly said, "If you're not afraid, go knock on the door of (some random room number) and make out with whoever answers." Bond recalled to Pacific Standard that Handler called her a "hot blonde" the first time they met, and that she has received multiple messages about Handler's behavior from people who are too scared to come forward publicly.
Handler has responded to the accusations in a comment on Bond's pledge apologizing to the women. "It has never been my wish to insult any of my professional colleagues," he wrote. "My whole life my sense of humor has not been for everyone, and my books continue to be regarded, by a segment of the population, as inappropriate … I take seriously the responsibilities of my visibility, and have always thought that treating all of my colleagues the same was the best way to dispel the unease that can come from a competitive or self-conscious environment … I am listening and willing to listen; I am learning and willing to learn." In 2014, Handler also came under fire for making a racist joke about author Jacqueline Woodson at the National Book Awards, which he apologized for and later made a donation to an organization that supports diversity in literature.