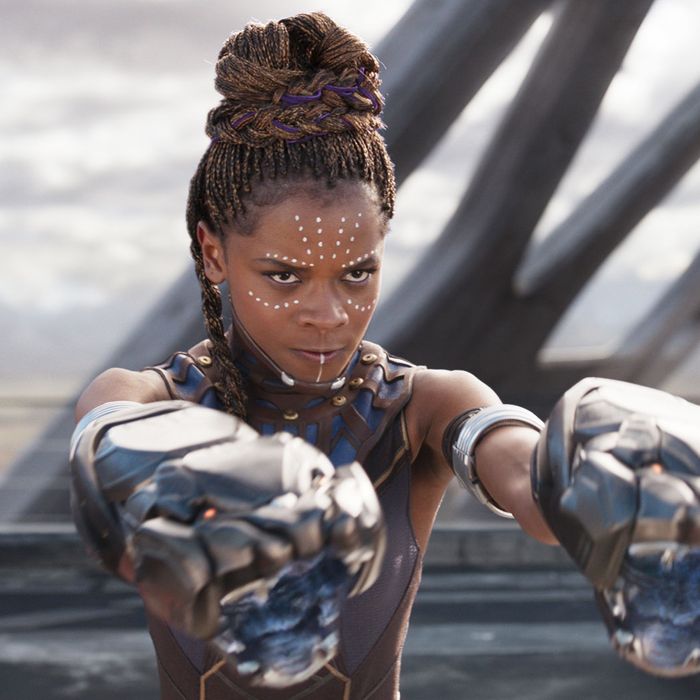 Letitia Wright in
Black Panther
.
Photo: Marvel Entertainment
One of the many pleasures of Black Panther is seeing some of our finest actors come together to have the time of their lives: Michael B. Jordan, snarling through his performance as a villain who might be right; Chadwick Boseman, doing the best possible version of his stoic-badass thing; Danai Gurira, throwing her wig. But if there's one actor you'll come out of Black Panther raving about, it's likely to be Letitia Wright, who steals every single one of her scenes as T'Challa's whiz-kid younger sister, Shuri. Wright adds some much-needed lightness to the movie's many action scenes, she's got great chemistry with Boseman, and to top it off she gets the movie's biggest laugh line, which I would not dare spoil for you.
In the very probable scenario that Letitia Wright has just become your new favorite actress, here's an intro guide to becoming her biggest fan.
She is great! Where have I seen her before?
That depends on how into British television you are. Wright moved to London from Guyana when she was a kid, and she's said she was inspired to get into acting thanks to Akeelah and the Bee. After graduating from the Identity School of Acting, a drama school for nonwhite actors in East London, she landed roles in stuff like Top Boy, and other projects that didn't quite make it over to the States. She eventually did the requisite episode of Doctor Who in 2015, then had a stint on Humans, and got a BAFTA nomination for her role in last year's coming-of-age tale Urban Hymn. But if you're reading Vulture, you probably recognize her from her episode in the most recent season of Black Mirror, "Black Museum," otherwise known as "the one with all the references to other Black Mirror episodes." If you're a patron of January cinema, she also had a tiny role in the recent Liam Neeson vehicle The Commuter.
What are some nice things people have said about her?
Urban Hymn director Michael Caton-Jones has compared her prodigious talent to that of Leonardo DiCaprio, whom he'd worked with on This Boy's Life.  "She was just fascinating from the beginning, loose and fluid," he told The Guardian. Black Panther director Ryan Coogler calls her "the love and the light" of the movie.
Since she's a famous millennial, I have to ask: What's her social-media game like?
Very Christian! "Everybody has their thing that they're truthful about," she told Vanity Fair. "My thing is just a love of God … so that's what I'm going to do." She credits religion for getting her through a long stint with depression a few years ago.
What else does she have in the pipeline?
Ryan Coogler got her at the (w)right time: She's also got a role in Steven Spielberg's Ready Player One, and like every actor who's ever had a line of dialogue in the Marvel Cinematic Universe, she'll appear in May's Avengers: Infinity War. Once she's done the promotional rounds for those films, though, she's taking a break to recharge. "I'm not going to rush into anything; I'm going to really just take a step back, travel a little bit more and then live life," she told THR. "Restore myself, and just get my mind focused on what's next."
Fair enough. Do you think she'll be in the inevitable Black Panther sequel?
Probably! One of the reasons Shuri gets so much screentime in the movie — besides Wright's great performance — could be that, in the comics, she eventually becomes the Black Panther herself. Wright says she hasn't talked to Coogler about that part of her character, but she would of course be down. As she told Variety, "It was something I feel he was playing with [trying] to set up, but it didn't happen. Hopefully it does. I'm happy that there's room to allow Shuri to grow."
Still, she's so perfect as the bratty younger sister.
She didn't have to go too Method there. "I have little brothers and sisters and they annoy me a lot," she told Variety.
One last thing — does she rap?
You're in luck. Get ready for MC Underbite: