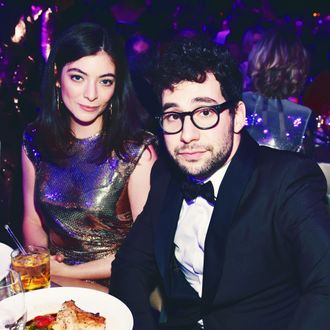 Lorde and Jack Antonoff.
Photo: Kevin Mazur/Getty Images for NARAS
Lately we've been wondering: What exactly is the deal between Lorde and Lena Dunham's ex Jack Antonoff? There have been rumors about the pair floating around for the past couple of months, and earlier this week, the Daily Mail added fuel to the fire by publishing a series of photos of them hugging on the streets of Auckland. Still, the two collaborators insist that there's nothing to see here. Back in January, Antonoff claimed that rumors he left Dunham for Lorde were "dumb heteronormative gossip," and today Lorde was similarly emphatic on an Instagram live chat.
"Guys, no!" Lorde responded to a fan who asked about the rumors. "Jack and I are not dating … I love him. He's awesome, but we're not dating!" Thank God, because we don't know if Taylor Swift could handle another friend breakup right now.