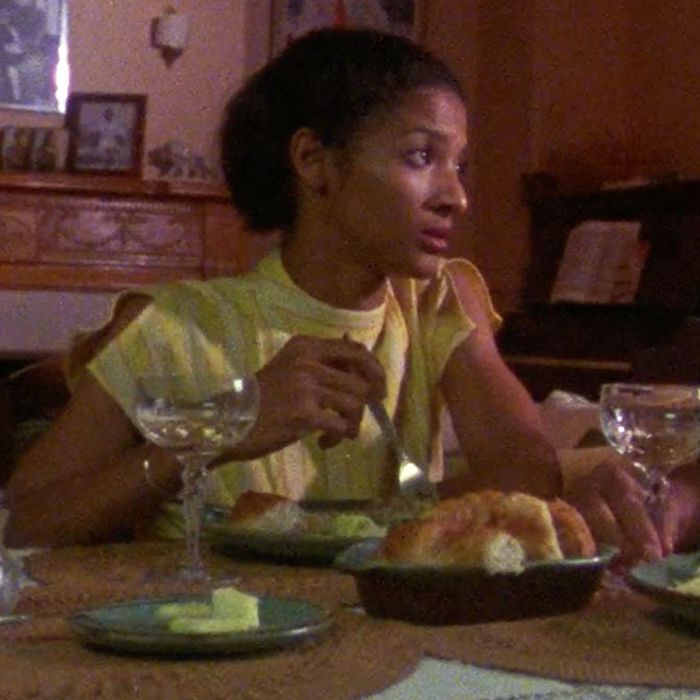 In honor of Black History Month, we're looking back at hidden gems, underrated classics, and great work in black cinematic history.
There are moments in Losing Ground — the 1982 independent film written, edited, and directed by Kathleen Collins — that are so rich in mood, texture, and longing I can't catch my breath.
Collins's debut and only film, Losing Ground never played outside of the festival circuit until long after Collins died from breast cancer in 1988. It was a lost gem until it was screened in 2015 at Lincoln Center and made available by Milestone Films, blessedly restoring Collins to her rightful place in the cinematic canon as one of the early black female directors. The film is an utterly vibrant consideration of intersecting concerns — a tense marriage, the particulars of middle-class black intelligentsia, artistic ecstasy, and meta-textually, the dynamics black women artists endure — rendering each with grace and complexity.
In 1984, Collins spoke to a class at Howard University in a manner that cuts to the heart of continuing conversations about representation and black identity. She said, "How do we divest ourselves of the need to make ourselves extraordinary? Now the danger […] is we must now be too good. If you've been the notion of sin incarnate and you're now trying to correct that balance, what do you do? You make black people into saints." Her voice grows urgent: "Neither one is true. Neither one is reality. Both are tracks to dehumanize you." This profoundly astute understanding is one Collins carries into every facet of Losing Ground.
The film centers on the faltering marriage between a prim philosophy professor, Sara Rogers (Seret Scott) and an intense painter, Victor (Bill Gunn). They decide to spend the summer in upstate New York renting a house so Victor's art can further flourish, which includes taking up a new muse and lover in Celia (Maritza Rivera). The characters often speak about the ecstasy of artistic creation — including Sara's actress mother, Leila (Billie Allen) — and Sara feels pointedly excluded from this aspect of Victor's life. When Sara searches for this ecstasy on her own terms, she finds it by acting in a student's silent film and falling for Duke (Duane Jones), an enigmatic out-of-work actor she shares the screen with. The fissures in Sara and Victor's marriage soon deepen until they become undeniable.
Losing Ground has cerebral interests, unsurprisingly, given the professions of the people that populate its frame. They argue, flirt, cajole, and entrap each other with a multitude of heady subjects: the philosophies of Sartre and Nietzsche, the nature of religious ecstasy, the constraints placed on artists, and the dynamics between black people and Puerto Ricans are all fair game. One of my favorite scenes concerns that last subject; an argument brews between Sara and Victor, shortly after she's met his new muse. Collins and cinematographer Ronald K. Gray pan back and forth along the length of the dinner table, giving this rancorous tête-à-tête the rhythm of a particularly intense tennis match.
But despite its focus on these cerebral subjects, I don't consider the film itself cerebral. If I were to describe it in a single word, it would be "verdant." Even before leaving the concrete haven of New York City, there is a lushness to the film, seen in the foliage punctuating Sara and Victor's apartment and the bright, abstract paintings he carefully created that imbue the walls with stately grace. Losing Ground is passionate, buoyant, alive.
Its characters' conversations are brimming with humor. Take, for example, the introduction of Duke. He's first seen wearing a cape that gives him a resplendent majesty and makes him seem immediately out of place in the library where he first meets Sara. He begins rattling off examples of his past lives. At one point, he mentions to her that this life is the first time he's been black. "I must have built up a lot of karmic debt," he notes wryly, sending Sara into her first fit of genuine laughter.
It's especially wondrous watching Seret Scott's lead performance. When we first meet her she's tightly wound, intensely focused. But as she confronts the subtle yet profound erosion of her marriage, she slowly unfurls, revealing the hidden depths and roiling emotions of her character. Through Collins's direction, and the dynamic performances of the leads, subtle moments — a downcast gaze, a first kiss in front of the camera, an invitation — brim with complexity and contradictions.
While the lens through which black identity is viewed in film has evolved in many ways since Collins was directing, it is still exceedingly rare to watch a film like Losing Ground, which considers the existential, personal, and romantic dimensions of a middle-class black woman free of easy categorization or stereotype. As Tambay A. Obenson notes in her review for Indiewire, "That Losing Ground  still feels fresh, over three decades later, is not only a testament to its timelessness, but also is sadly indicative of how scarce complex depictions of the inner lives of women — specifically black women — are, in contemporary American cinema; especially when handled with such majesty."
Watching Losing Ground for the first time, I couldn't help but wonder about the films Collins could have made if she had the structural support, money, and good health to do so. How would her voice have developed if she didn't figure into the cruel lineage of black women creatives — Minnie Riperton, Lorraine Hansberry, and Claudia Tate come to mind — undone at a fairly young age before their talents could reach full bloom? In her marvelous essay on Collins's work for LitHub, Danielle Jackson considers this potential legacy, writing, "It seemed their earthly bodies could not sustain the fire of their gifts and the toil against external stressors that threatened to keep them silent." As a fellow black woman creative, it's a theory that chills me.
The film ends in a way few films about black life do: on a note of ambiguity. Black people are emotionally tangled, intelligent, stylish, hungry, barbed. In Losing Ground, they are neither saints nor sinners — they are achingly, beautifully human.