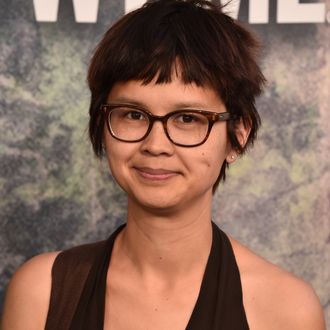 Charlyne Yi.
Photo: Alberto E. Rodriguez/Getty Images
Following Marilyn Manson's onstage concert meltdown on Thursday evening that startled fans and stagehands alike, House actress Charlyne Yi wants you to know his erratic behavior isn't exclusive to the music industry. In a series of tweets, the actress recalled an upsetting incident involving Manson when she was still starring in the hit drama series House, which occurred when he visited the set. "Ugh, don't even get me started on Marilyn Manson," Yi wrote on her now-deleted account, per THR. "Yes this happened a long time ago — on the last season of House he came on set to visit because he was a huge fan of the show and he harassed just about every woman asking us if we were going to scissor, rhino & called me a China man."
In a second tweet, she added how distressing it was to relive those memories with Manson again. "It's so triggering to see people come up on the internet who have harassed you. And then when you talk about the incidents you become known as the person tied to the harasser," she wrote. "And that's just your name from now on. It almost overrides who you are." Manson has yet to comment on her claims.
Last fall, when the #MeToo era was just beginning, Yi also used her Twitter account to recall a racist encounter she had with comedian David Cross about a decade ago. While she claimed he used racist language against Asian cultures, Cross doesn't remember doing so.