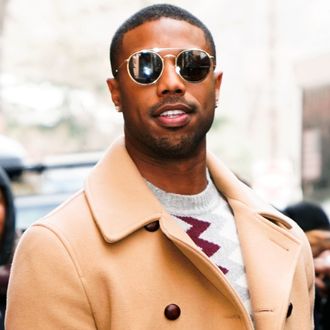 Michael B. Jordan.
Photo: Gotham/GC Images
Michael B. Jordan — usurper of the Wakandan throne and destroyer of fine sweaters — will not tolerate your disrespect of his lifestyle on Twitter. In a new episode of the Complex video series Hot Ones, Jordan mentioned that he lives with his parents, and was asked which anime he'd watch if he could only choose one. Upon receiving this information, one Twitter user lamented that he thought things like digging anime and living with your family ran contrary to what women found desirable in a man.
Imagine being this civilian and having the nerve, willfully ignoring the fact that there are men, and then there is Michael B. Jordan, the crowned prince of Planet Ryan Coogler and current foremost ambassador of fashionable knitwear. But Michael B. Jordan doesn't need anyone to fight his battles for him, because Michael B. Jordan fights for himself.
And lest you think his taste in entertainment is basic, as this Twitter user did, Jordan waded into the tempest of his mentions to make it clear he was just keeping his suggestions accessible for the fans.
Let the lesson be: If you're going to come for Michael B. Jordan, you must come correct, and that includes having the proper build measurements. If Jordan would like to provide chest and bicep circumference, Vulture would be pleased to keep that information on hand for future fact-checking purposes.