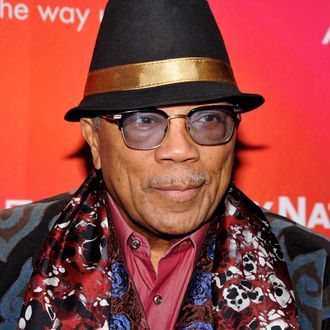 Quincy Jones.
Photo: John Sciulli/Getty Images for Geffen Playhous
Consider this the interview that keeps on giving and giving and giving: We don't want to toot our own horn, but Quincy Jones's epic chat with Vulture earlier this month is filled with just about every type of gossip under the sun, between Marlon Brando and Richard Pryor's alleged sexual history, to who killed JFK, to Ivanka Trump's boyfriends. Jones has already taken some heat from people to dispel a few of his wild remarks, and now he's also receiving the wrath of Michael Jackson's father, Joe Jackson, who didn't appreciate Jones calling his son a song thief.
"I hate to get into this publicly, but Michael stole a lot of stuff. He stole a lot of songs," Jones previously told us. "[Donna Summer's] 'State of Independence' and 'Billie Jean.' The notes don't lie, man. He was as Machiavellian as they come. Greedy, man. Greedy." Jackson, as he recently explained to "Page Six" in response, believes Jones would say this as he's "quite jealous of Michael because he's never worked with someone with all of that talent."
If the songs are indeed similar, Jackson also reckons, then it's because of Jones's own fault as a producer: "He says my son stole it, but he was the producer on both ['Billie Jean' and 'State of Independence'], so if anybody is wrong it would be Quincy." Listen below for yourselves.
Michael Jackson's "Billie Jean"
Donna Summer's "State of Independence"