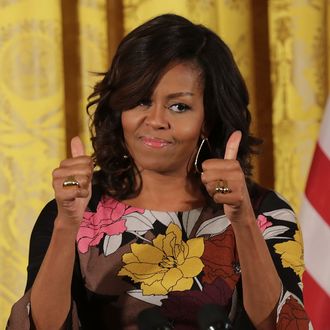 Michelle Obama.
Photo: Chip Somodevilla/Getty Images
Fabulous news for all of you First Lady enthusiasts out there — Michelle Obama has announced the impending release of her memoir, Becoming, which will be out on November 13. Per the book's official Penguin Random House website, Becoming is described as less as a White House tell-all and more of a poignant retelling of the most significant moments throughout Obama's life. Although, she does tease some political stories from the "world's most famous address" and beyond. (Lucky for us!) "Writing Becoming has been a deeply personal experience. I talk about my roots and how a girl from the South Side found her voice," Obama tweeted to confirm the news. "I hope my journey inspires readers to find the courage to become whoever they aspire to be. I can't wait to share my story."
In addition to Becoming's November date, the publisher has confirmed Obama will be embarking on a book tour, although the dates and cities have yet to be released. Patience!