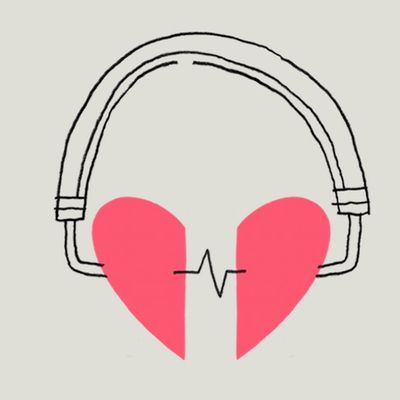 This week, the wonderful Modern Love podcast celebrated its 100th episode. A co-production between the New York Times and the Boston public radio station WBUR, the podcast sports a simple, elegant design: Every week, the show selects an essay from the New York Times' considerable archive of Modern Love columns, brings in an actor to perform the read (which is then augmented with sharp sound design and editing), and caps the edition off with a follow-up interview with the essayist. The end product is an alluring conversation between text, performance, and reality; it is as much a meditation on the different ways of communicating and experience of human relationships as it is a meditation on the experiences themselves.
Modern Love debuted in January 2016, and has since built out a gorgeous library of recordings. The show featured performances from a murderer's row of actors — Greta Gerwig, Ann Dowd, Jake Gyllenhaal, Kerry Bishe, Laura Dern, Constance Wu, and Issa Rae, to name a few.
As simple as the show's design was, there was never any guarantee that the team would be able to pull it off. As Jessica Alpert, Modern Love's managing producer, told me:
When I was hired to lead the team to launch this project, I knew the dream and the expectation was to have major celebrities read the essays. When asked if I could do it, I of course answered "yes." But did I really know if I could do it? Cue the laughter here. I had hope and a seriously beautiful product behind me — who can say no to these essays? Of course, it isn't easy getting past agents and publicists and managers — especially when you're a nobody based in Boston. The amount of "no's" I received were staggering but we always responded: "No forever?" or "No for now?" Some days were really hard and I wasn't sure if we were going to pull this whole thing off. But we just didn't give up. We worked every connection we had, we did major research on actors, and we sent perfectly positioned essays based on the actor's own life experience (sometimes this really worked and sometimes it really backfired). When Judd Apatow said "Sure!" in a quick email response [for episode four, "An Interlude of Clarity"], I literally ran around the newsroom and did a dance. At that moment, I knew it was going to be hard but I also knew we were going to be okay.
To commemorate the podcast's 100th episode, here are the Modern Love team's favorite episodes, as selected by Alpert; host Meghna Chakrabarti; WBUR's executive director of podcasts, Iris Adler; and the editor of the Modern Love print column at the New York Times, Daniel Jones.
One Last Swirl (Episode 2, written by Dan Barry, performed by Jason Alexander)
Chakrabarti: Jason Alexander — best known as George Costanza from the iconic Seinfeld — reads a story that explores mortality with the help of a resilient pet fish. [It's] Dan Barry's story about facing his father's mortality, and projecting it all onto his daughter's dying fish. I loved it because it deals with how we cope with our most profound losses. It felt like someone grabbing me and saying, "We ALL have to face this. Listen!"
Not So Simple Math (Episode 3, written by Amy Seek, performed by Sarah Paulson)
Alpert: Amy Seek writes about her decision to participate in an open adoption — and she takes us deep into that decision in the space of a few pages. This episode is exquisite and I think I love it so much because it was one of our firsts and because I was involved in every step of the process. From directing the amazingly talented Sarah Paulson (who had all of us in tears in the control room) to working with writer Amy Seek to figure out how personal she wanted to go in her interview — this truly was a labor of love. The story here — while quite unique — was written in such a way that I felt I wasn't just a listener, but a witness. When these episodes really work, they invite us in and allow us to sit and marinate in the words. Our approach in regards to sound design was to simply accentuate that writing — make it sing. We did punctuate some sections with visceral sounds. It became clear to me that we needed to remind people that this whole episode was about a child so we made a very deliberate decision to add the sound of an infant (recorded by a colleague on maternity leave). It destroys me every time.
Adler: A brilliantly written and sound-designed episode, that speaks to the poignancy and pain of giving a child up for adoption, without the usual saccharine bromides.
Jones: This was among our early episodes and it really broke open my narrow ideas about what kinds of essays would work for the podcast. I had thought that more chronological and dramatic essays would be best for listening, and Amy's essay is jumbled in time and mostly interior monologue, with a few conversations sprinkled in. But the power of Sarah Paulson's reading and the brilliance of the sound design made for what I still believe is one of our best episodes, if not the best.
Magically Interrupted (Episode 6, written by Robert Leleux, performed by Michael Shannon)
Adler: There's nothing funny about Alzheimer's, yet this essay brings both humor and hope to this terrible affliction.
A Heart Outrun (Episode 18, written by Gary Presley, performed by Colin Farrell)
Jones: This episode stands out for me in part because I was in the studio for Colin Farrell's reading (I only get to attend maybe 1 in 10). And his performance was kind of breathtaking. He sat down, read it through once, did a few pickups (different takes on phrases) and was done. Nearly everyone reads through twice and spends an hour; he spent 20 minutes because he had another appointment. And it was such a beautiful, understated take on a powerful essay by Gary Presley, with a lovely postscript.
Adler: Honestly — I would fall in love with anything that Colin Farrell reads, but this is a unique and deeply moving love story.
Just Friends? (Episode 28, written by Steve Friedman, performed by Tony Hale)
Alpert: This was the first Modern Love essay ever published. I love how honest and raw it is — and how effortlessly funny and self-deprecating. Steve Friedman tells the reader about a relationship gone wrong — and it took him a bit too long to figure that out. When a fellow producer suggested Tony Hale as the reader, I knew we were going to nail it. Tony Hale is such a lovely, professional actor. I had to mute my laughing when he was recording this for us. He literally inhabits every character he plays, and you felt he knew this guy — and knew him well. Sound-designing comedic essays is a totally different animal; timing is paramount, and music can make or break it. John Perotti — our head sound designer — has a great sense of humor, and I feel like he really lets that breathe when he works on comedic episodes.
A Heart of Gold (Episode 43, written by Caroline Leavitt, performed by Ruth Negga)
Alpert: I really had to fight for this essay — people thought it was an odd choice but I just love(d) it. Caroline Leavitt tells us about her pet tortoise and how his presence in her life provided a sense of stability and unconditional love. The actor Ruth Negga does a beautiful job, really making this her own. At the time, she was doing a press tour for Loving, the film that tells the story of Mildred and Richard Loving, the interracial couple that challenged discriminatory marriage laws. Negga had a beautiful Southern lilt in that film, and it was so wonderful to hear her read this essay in her own voice. For some actors, the Modern Love experience is truly freeing because they can poke holes in any boxes they've been placed in. I love hearing a comedic actor take on a dramatic essay and hearing them do it so well. There are so many dimensions to these talented people — even if most of us never get to see them. As for the content of this essay, I have to admit that sometimes it's hard for pet people (like me) to explain our devotion to our animals. But when someone else gets it, it feels so validating. Caroline does that here, and even if you aren't a pet owner, I think this essay challenges you to think about your relationships in new ways.
Groomzilla (Episode 51, written by Craig Bridger, performed by John Cho)
Chakrabarti: John Cho reads an essay about a groom gone bad. Script. Flipped.
It Took a Villain (Episode 64, written by Teresa DiFalco, performed by Melanie Lynskey)
Jones: I'm often drawn to strange stories that explore the dark side of marriage with brutal honesty. Teresa DiFalco's essay gets at an uncomfortable truth: that marriages in trouble need glue, something to get the couple to bond or feel like a team against something or someone else. In this case, it's "the nut down the road" — an aggressive guy who parks on the sidewalk and verbally abuses neighbors. The story spirals into unexpected places and becomes an odd, intimate dance with danger. Melanie Lynskey brings the perfect light edge to her reading, which sounds so eerie given the turmoil and sadness of a story where things are falling apart.
Marry My Husband (Bonus Episode, written by Amy Krouse Rosenthal, performed by Debra Winger)
Chakrabarti: Debra Winger reads the late Amy Krouse Rosenthal's essay about her fairy-tale love story, which was cut short by cancer. The essay rocketed to the top of the NYT most-read list at the time. A profound reminder to me that true love is an act of giving, and that giving is immortal.