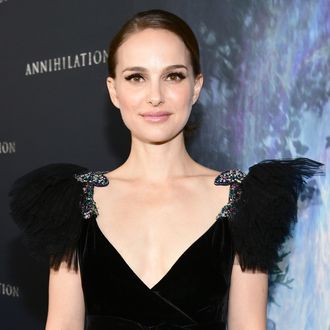 Portman.
Photo: Emma McIntyre/Getty Images
Natalie Portman has responded to claims that her new film Annihilation whitewashes the identities of its main characters. In an interview with Yahoo Entertainment, Portman and her co-star Jennifer Jason Leigh say they only learned about the race of the characters in the film's source material this week. When asked to comment on the controversy, Portman said, "Well, that does sound problematic, but I'm hearing it here first." Leigh added, "It's probably a valid criticism. I didn't know that."
In the sequel novel to Jeff VanderMeer's Annihilation (the book on which the film is based), Portman's character Lena is described as having "high cheekbones that spoke to the strong Asian heritage on one side of her family," while Leigh's Dr. Ventress is written as half-white, half-Native American. Portman acknowledged the problem of overly white casting in Hollywood, and emphasized the need for change. "We need more representation of Asians on film, of Hispanics on film, of blacks on film, women and particularly women of color, Native Americans — I mean, we just don't have enough representation," said the actress. "And also these categories like 'white' and 'nonwhite' — they're imagined classifications but have real-life consequences. … And I hope that begins to change, because I think everyone is becoming more conscious of it, which hopefully will make change."
Earlier this week, the group Media Action Network for Asian Americans gave a statement to The Hollywood Reporter saying that Garland was misrepresenting key characters in the source material (Jeff VanderMeer's book of the same name) by casting white actresses, Portman and Leigh, to play characters written as women of color. The founder of American Indians in Film and Television shared its own concerns on the matter with THR, calling the "diversity replacement" disappointing, but routine. But the case of Annihilation, which, to this point, has been lauded as a female-fronted film with diverse casting choices by putting Gina Rodriguez and Tessa Thompson in lead roles, is a tricky one, since no descriptions of the characters are provided in the first installment of VanderMeer's book trilogy. They're not even given names in Annihilaton, but designated instead by positions (e.g. biologist, anthropologist, etc.).
Additionally, Garland told Yahoo last year when the movie's trailer debuted that he wrote the script based on an unpublished galley copy of Annihilation, and intentionally read neither the published version nor any of the sequels, because he wanted a movie that was inspired by what he read and not really adapted from it. "I knew at that time there were supposed to be three books planned, but I didn't know [anything] about the other two," he told Yahoo, adding that he got permission from VanderMeer to make his unfaithful take on the author's work. "I thought, I'm not going to re-read the book; I'm going to adapt it like a dream of the book."