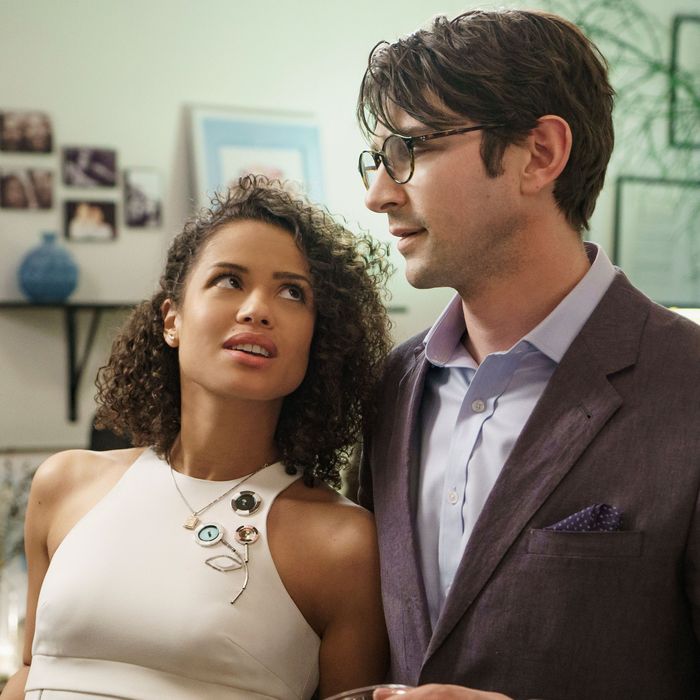 Photo: Linda Kallerus / Netflix
I have a theory that's probably not ready for prime time, but which I will nonetheless put on the record, in a review of an otherwise non-noteworthy romantic comedy: Netflix's endgame has nothing to do with dominating the entertainment industry. If it did, we'd be getting the bragging numbers by now for artistically regrettable culture-jammers like The Cloverfield Paradox. That information — the information about the viewing habits of its now 117 million worldwide subscribers — is being carefully guarded because it's proprietary information, and it is Netflix's true product. You don't buy up hundreds of seemingly arbitrarily acquired titles simply to dominate the entertainment industry. Those titles are data points, each satisfying an intersection of variables. Their sum total is an informational hammer which could be used to do … any number of things.
At the intersection of the Romantic Comedy + Death + Cancer + Interracial Couple variables sits Irreplaceable You, a half-baked tragic love story so desperately engineered to tear-jerk that it ceases to resemble anything human. The phrase "feels like a Netflix movie" has become a flexible slur to mean any number of things (and certainly doesn't apply to all Netflix movies), the lowest of which is the kind of movie that feels like a fake movie within a movie. This is that. Abbie and Sam (Gugu Mbatha-Raw and Game of Thrones' Michiel Huisman) are childhood sweethearts turned affianced adults when she gets the news that she probably won't live to see their big day. The film tracks her journey of acceptance of her illness, but adds in the wacky twist alluded to in the title: What if Abbie could set her soon-to-be widower up with his next girlfriend before she goes?
Watching Abbie go through this farce is "like watching a car crash in slow motion," observes her support group buddy Myron (Christopher Walken, actually one of the realer-feeling figures here, which should tell you something). Of course the plan, executed via OKCupid-facilitated interviews, is going to end in disappointment and a rediscovery of what really matters. We know it. The movie knows it. So why keep watching? Is it for the respectable supporting cast, which includes Kate McKinnon and Steve Coogan? (The former is just doing her signature thing, this time in a knitting circle; the latter is not doing much of anything at all.) Is it morbid anticipation of the assured patheticism of the final "wedding" scene? It's hard not to feel like a lab rat as you go through the film's motions, like someone is studying your every reaction to the prepared succession of stimuli.
At the center of this succession, of course, is Mbatha-Raw, an incredibly magnetic actor who has now been done dirty by the same streaming provider twice in one month. Unfortunately, she's pushing too hard at first-time writer/CSI:NY alum Bess Wohl's inert material, and does not come out unscathed by the effort. It was just over a year ago that Mbatha-Raw danced into our hearts as another life-affirming lover staring down death on another Netflix Original, but Irreplaceable You couldn't have less in common with San Junipero, or less of an idea of how to employ its star's energy. And yet, somewhere in Netflix's big red brain, these titles, and their respective viewing data, exist on a plane labeled "Tragic Romances Starring Gugu Mbatha-Raw." What it chooses to do with that information is anyone's guess.