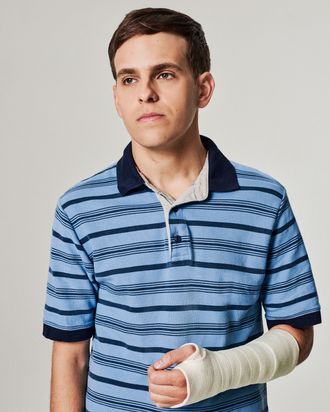 Taylor Trensch.
Photo: Nathan Johnson
One might assume it's a stretch for Taylor Trensch to go from starring in a big theatrical confection like Hello, Dolly! to a tearjerker like Dear Evan Hansen, but Trensch thinks of it more like coming home to something familiar. "Hello Dolly! was terrifying because that's not at all where I've lived as an actor before," said the 28-year-old. "Doing broad comedy was so scary. In the past, I've been more required to do this [Evan Hansen] sort of thing." So as he steps into the lead role in the Tony Award–winning production (he officially takes over on February 6, though Trensch has filled in a few times previously), Trensch is back in his natural habitat as a troubled teen.
Not that the upbeat Trensch comes off that way in person. A fan of musical theater — his first role came after reading about an audition for a local production of Wizard of Oz in the Tampa newspaper at age 5 — Trensch's career really kicked off after he booked the role of Moritz in the national tour of Spring Awakening. Since then he's played other troubled teens — in Bare and The Curious Incident of the Dog in the Night-Time, for instance — and in broader comedies like Hello, Dolly!, where he met Lady Bird's Beanie Feldstein, now a good friend. Backstage at the Music Box Theater before Evan Hansen rehearsals, Trensch talked with Vulture about switching gears for a new part, being a fan of the previous Evan Hansens Ben Platt and Noah Galvin, and the best advice he got from Bette Midler.
I'm assuming you auditioned while you were in Hello, Dolly! When did the opportunity to do Evan Hansen come up?
I was doing Hello, Dolly! and a few of the cast members came to see the show and they all were very kind and said that I should try to get an audition for it if I could. I'd worked with Michael [Greif, the director] once before on the Off Broadway revival of Rent. He very generously brought me in and I gave it my best shot. I think the next day I found out.
When did you see Evan Hansen for the first time?
Just before my audition, I saw it for the first time. I was such a bad friend, I have so many pals in the show but was lucky enough to be doing something when they were in D.C. and when they were Off Broadway. I snuck in there at the last second and was, obviously, so blown away by what's happening on that stage.
Do you have a favorite moment in the show?
It changes a little bit every time I do a run-through, but something I love pretty consistently is the song that Heidi, Evan's mother, sings at the end of the show, "So Big, So Small." Just getting to sit and watch either Rachel [Bay Jones] or the two understudies Nicole Van Giesen and Garrett Long — to watch them do that so masterfully and gorgeously, that, I think, will always be a real highlight of this experience.
What is it like to go from Hello, Dolly! which is so exuberant and fun, to this, which is much darker?
They couldn't be further apart. Hello, Dolly! is so over the top and Dear Evan Hansen is so grounded in reality. It's fun, especially doing them back to back. In the past, I've been more required to do this [Evan Hansen] sort of thing, to be a boy who's sad. I already had some of that with me.
Do you think there's a reason you feel like you keep playing a troubled teen?
Probably part of it is my physical appearance. I am not a leading man, which puts me in the category of being an outcast. Maybe also because it's so the opposite of where I live my daily life. It feels easier to go to live in a place where I don't spend the rest of my day.
Were you an awkward teenager?
Oh my god, yeah. I'm still an awkward teenager. I always felt painfully average or mediocre. I never felt like there was anything special about me growing up. It felt so hard to make friends, and I still feel such social anxiety when I go to a party and don't know anyone, because I think we all do. So yes, it's definitely accessible, where these boys live.
You're now part of an exciting chain of Evan Hansens with Ben Platt and then Noah Galvin. You guys made like that disco video together which was pretty funny —
Thanks. All Ben's idea. I saw Ben in a production of The Black Suits — this Joe Iconis musical — at Barrington Stage years ago, so I was already a fan. Then I saw Noah in The Burnt Part Boys at Playwrights Horizons years ago. It feels like a cool brotherhood to enter into the show, and that there's only so few of us [who have played the part], the three of us and Michael Lee Brown, the alternate, and Colton Ryan and Ben Ross now who understudies. It's a cool little family.
Did you go to them to get advice on how to get a handle on the show?
They've been nice in letting me try to figure it myself first, and then I can come to them in despair when this feels so hard. We haven't talked about it in depth — mainly I've just been praising the both of them whenever I can. The entire understudy cast has been with me through all of my rehearsals, which has been such a luxury that's so rare. Usually, when you're a replacement in a show, you work with the stage manager and maybe a dance captain, and that's it, and then you're thrown in at the last second.
One of the things the press talked about when Ben was in Dear Evan Hansen was how much he had to work to maintain his voice. How are you approaching that?
Well, I was already one step ahead. Ben and Noah both cut out dairy, but I've been vegan for years, so I was like, "Gotcha, suckers. I'm already there!" Plus, coming off of Hello, Dolly! and already having the stamina of doing eight shows a week is tremendously helpful.
What was it like to leave behind Hello, Dolly! in the process of switching to this?
The last day was very sad. I grew so close to so many people in that company, but especially Gavin [Creel], Kate [Baldwin], and Beanie [Feldstein], who I spent all my time with. It was heartbreaking to leave, but it was also a bit of a relief to now be able to just focus on one show and not try to balance the two.
You all had to be locked in that table onstage at the Harmonia Gardens.
That's how we got so close. It's because we spent like, what felt like 30 minutes every single night just chatting onstage while Bette and David, the masters, were doing important work, we were playing cards. Kate Baldwin is not a good whisperer. Kate Baldwin, the loveliest lady in all the land, whispering is not in her skill set, and so we spent a lot of our time just shushing Kate.
I feel like the key to getting cast in Evan Hansen is being friends with Beanie Feldstein.
The key to success in life is to be friends with Beanie Feldstein. I have a Google Alert on Beanie Feldstein. It's my only one. I love that lady so much and she's so good in Lady Bird and Hello, Dolly! With all this press about her, I wanted to make sure I got the alert first.
Alongside Beanie and Ben, it does seem like there is a network of young Broadway actors.
Yeah, we hang out all the time because we all can relate. We have the same experiences and the same interests so it's fun and enjoyable to hang out with each other. I feel like all of my friends now, since moving to New York, are young actors. I should probably branch out and meet people with other interests, but I like my friends.
Good group texts to have.
Yeah, for sure. Incredible group chats, incredible titles of group chats.
Like what?
Well, Beanie and Ben have one that I know is titled "Oh Baby," but no one has any idea who named it that or why it is named that. Kate, Gavin, Beanie, and I have one called "The Pod Squad" because we were all trapped in the Harmonia Gardens together for so many minutes every day.
So many people came to see Dear Evan Hansen when Ben was in it. Are there people that you would really love to see in the audience?
Harry Styles was one, but he already came! I'm hoping we can get him back. I mean, anyone: Barack Obama, Catherine O'Hara, anyone. You, your mom — bring your friends.
Do you have any shows that you would really like to be in?
One of my dream roles is Sally Bowles in Cabaret. I don't know how likely that is, considering she gets pregnant. Prior in Angels in America is a big one, I think more so. I just have a lot of theater artists I'd love to work with. I've loved Annie Baker for so many years. I would love to work with Annie Baker.
Do you have any favorite Bette Midler memories?
So many. At one point she said that her one piece of advice for all of us was when you go to the stage door, wear gloves or you'll die.
Because of germs?
I think germs, shaking people's hands, meeting people — wear gloves or you'll die. If you're Bette Midler, you've shook of thousands upon thousands of hands, millions. So as a cast, we got her a pair of gloves for her closing performance.