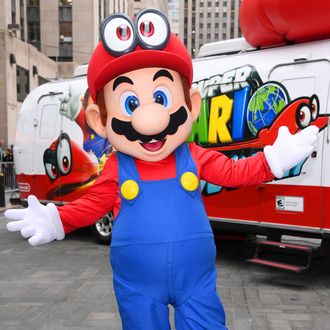 Mario.
Photo: Dave Kotinsky/Getty Images for Nintendo of Ame
Ohhhh. Mamma Mia! Nintendo has announced plans for a new Mario movie. Per The Hollywood Reporter, creator Shigeru Miyamoto will produce with Illumination (Sing, Despicable Me), and the movie will be distributed by Universal Pictures. Nintendo didn't release details on the title, plot, casting, or release date. Will this Illumination deal give us
a Mario-Minions crossover? The new movie will be Mario's biggest effort since the critically derided Super Mario Bros., starring Bob Hoskins and John Leguizamo, in 1993.