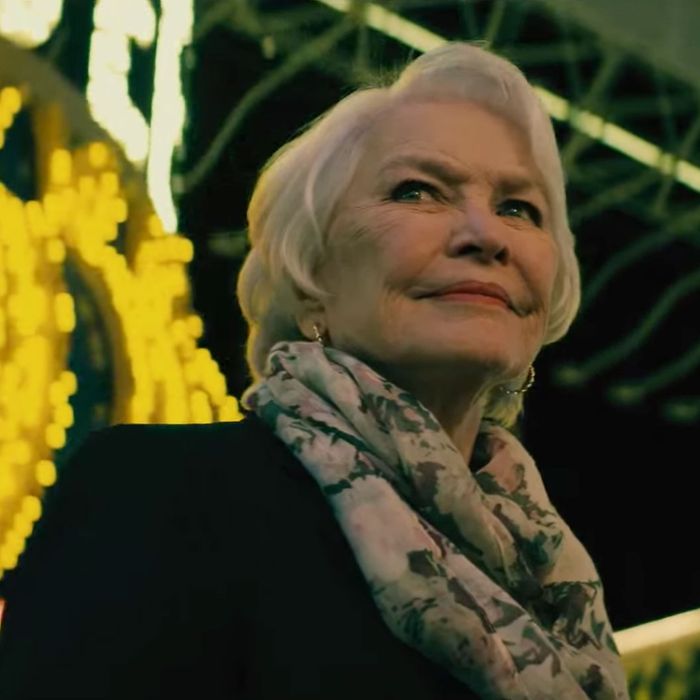 Ellen Burstyn in
Nostalgia
.
Photo: Bleecker Street
Talk about sad. That's Mark Pellington's Nostalgia, from a script by Alex Ross Perry, from a story they wrote together, the title invoking both memory and the Greek root nostos, meaning pain. It's an ensemble drama — more precisely, a series of linked monologues with point of view passed from character to character on a journey that begins with an allusion to a coming birth and ends under the pall of a tragic death.
John Ortiz plays the insurance agent who carries the narrative ball to the cluttered home of an ornery (what else is he now, ever?) Bruce Dern, then to the old man's emotionally addled relatives, and then to Ellen Burstyn as a woman who has lost nearly all tangible memories of her late husband in a fire. Burstyn carries the story — along with a prized baseball passed down to her husband — to Las Vegas and John Hamm as a sports memorabilia dealer. Hamm then carries the ball (metaphorically, not literally) to his childhood home, where he and Catherine Keener, as his sister, pick through the contents of their parents' old house and attic. Keener takes us out on a note of devastating grief but with the possibility of transcendence.
The theme is our impermanence and the ways in which the dread of it translates into how we treat objects — photos, old clothes, the bric-a-brac accumulated over lifetimes that people resist throwing out for fear of also discarding what's left of their loved ones. But what are those objects, really? At most they represent the stories of their owners, but how long do those stories endure — especially when the young, accustomed now to perishable texts and downloads, have so much less connection to the material world? The hard-won answer is, as with most things, spiritual: accepting our impermanence, loving with all our souls while we're here.
The above is my monologue. It's contagious. The actors deliver their speeches with varying degrees of naturalism, though if it's naturalism you want, you should probably look to another movie. The artificiality bothered me for a while. Olivier Assayas explored some of these themes seamlessly and more obliquely in his great 2008 film Summer Hours, in which the objects of an old woman's house (including the prized works of her late artist husband) are given away or auctioned off piece by piece. The characters in Nostalgia interact some but spend most of their screen time mulling it all over.
Given that, it's an impressive film, deep if not wide. The actors are treasurable. Even saddled with some of the least realistic speeches, Ortiz hits a note of slightly abstracted curiosity that is brilliantly right. Burstyn is — forgive me — burstin' with emotion, the expression of a lifetime of feeling her way through her parts. Hamm is pensive while still being vividly present. Keener's voice — her whole affect — merges with the plaintive score of Laurent Eyquem, the performance attaining the condition of music. The rest of the fiercely committed cast includes James LeGros, Nick Offerman, Annalise Basso as Keener's practical teenage daughter, and Mikey Madison, who has a bear of a final monologue as Basso's friend.
The friend's monologue introduces another, even more haunting variation of the title: "a melancholy nostalgia for something that perhaps hasn't happened." Which suggests that for whatever reason, we are destined to mourn. Pellington and Perry can be accused of over-enunciating their ideas, but any film flooded with this level of emotion is worthy of our respect — and our tears.