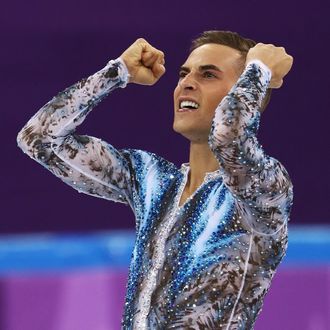 Adam Rippon.
Photo: Robert Cianflone/Getty Images
Shouldering the hopes and dreams of an entire nation is a huge responsibility. Considering that (and maaaaaybe considering the fact Vice-President Mike Pence lives here too), Olympic figure skater Adam Rippon went ahead and selected one specific American's hopes and dreams to focus on instead. As anyone would, he picked Reese Witherspoon. "There are so many emotions when I step on the ice. I want to represent my country to the best of my abilities," Rippon told NBC after his Sunday night free skate. "I want to make Reese Witherspoon proud."
The skater first started his love fest with the actress last week, when the Big Little Lies star declared him her number-one reason for tuning into the games.
In the end, Rippon went on to earn one of the highest honors achievable by man on Sunday. Oh, and also he helped the USA bring home a bronze in the team-figure-skating event.