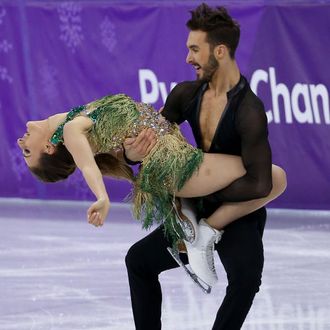 Gabriella Papadakis and Guillaume Cizeron of France.
Photo: Jean Catuffe/Getty Images
Aside from an injury, France's Gabriella Papadakis endured one of the most unfortunate figure skating setbacks during her Olympics short dance program with her partner, Guillaume Cizeron, on Sunday evening: a rather noticeable wardrobe malfunction, which was brought on by a malfunctioning clasp from the back of her dress. Still, Papadakis was able to beautifully overcome the setback despite the jiggly fabric constantly swaying back and forth throughout the duo's Latin-inspired program — at one time, even exposing her breast — which ultimately netted them a second-place finish after round one.
"My worst nightmare happened at the Olympics, I felt it right away and I prayed, it was all I could do," Papadakis told reporters shortly after their program ended. Added Cizeron: "It's just frustrating to miss a few points just because of a costume issue … It's not what we get ready for when we train." They'll be back on the ice Tuesday evening for their long dance program, likely with a new outfit.