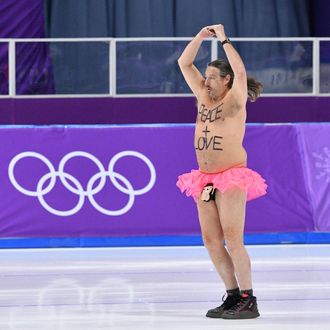 Photo: MLADEN ANTONOV/AFP/Getty Images
The 2018 Winter Olympics in Pyeongchang have been a showcase of truly remarkable athleticism, grit, endurance, and sportsmanship. But we're not here to talk about any of that. We're here to talk about the streaker who bravely made his Olympic debut on Friday morning.
As TMZ reported under a typically succinct, straightforward headline — in this case, "Olympics Invaded By Fat Streaker with Monkey Penis Pouch" — a man took the ice after Men's 1,000m Speed Skating event and disrobed to reveal nothing but a tutu and, yes, a monkey penis pouch. He had the words "PEACE + LOVE" written on his chest, in a routine that was derivative of another great in his sport, Soy Bomb Guy from the 1998 Grammys.
Here he is making his descent onto the ice:
A true master of his craft.