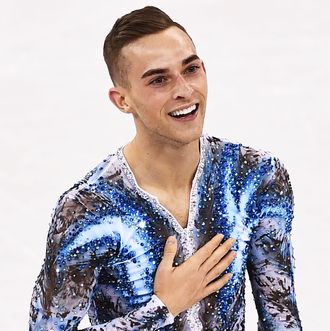 Adam Rippon.
Photo: Aris Messinis/AFP/Getty Images
Can Team USA find room for him on the skeleton or curling teams? Maybe? Yes? Newfound national treasure Adam Rippon ended his sparkly, witchcraft-inspired Olympics this weekend, placing a respectable tenth place in the individual men's figure skating competition. But before Rippon makes his inevitable late-night debut in the coming days, the athlete took a few moments, post-skate, to reflect on his Olympic experience.
"I came here as an athlete to show why I'm at these Olympic Games, why I was chosen for the team, why I needed to be on that team event and that's been so important to me and that I've gotten to show the world who I am," he told reporters after his final event on Saturday morning. "I think I'm leaving showing the world that you can also have a big personality and be who you are in the process … I think I've shown the world that I'm a fierce competitor, but I think I've shown them that I'm also a fierce human being."
The significance of his Olympic run and popularity — winning a bronze medal in the team skate, making him the the first openly gay athlete to get a Winter Games medal for the U.S. — wasn't lost on Rippon, either. "I've gotten a lot of attention I think just for being myself. I think that a lot of people, when they come to a competition, are afraid to be themselves no matter who they are," he explained. "I think one thing that I want people to come away with from this competition is that I'm not a gay icon or America's gay sweetheart — I'm just America's sweetheart and I'm just an icon. And if you have a personality like mine, it's for everybody."
Here's hoping for Beijing 2022.