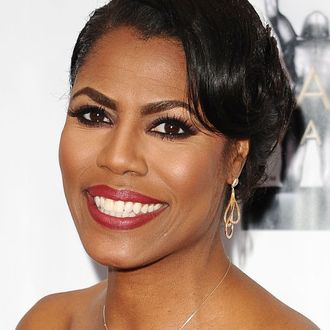 Omarosa Manigault.
Photo: Jason LaVeris/FilmMagic
Omarosa Manigault's tenure in the Celebrity Big Brother house has been rife with gossip and juicy tidbits about her White House experience — so, who's sleeping with whom? — but alas, the show is coming to an end, and thus are her Trumpian insights on CBS primetime. But before she left the constraints of her Orwellian reality hellscape, Omarosa had one more comparison to make about working with President Trump and his gang at 1600 Penn over the past year. "Ooh, freedom, I've been emancipated," she said in this week's episode. "I feel like I just got freed off of a plantation." Additionally, she expressed interest in writing a "tell-all" book soon about her experiences, as she has zero loyalties within the White House anymore.
"[Trump is] going to come after me with everything he has. Like, I'm going up against a kazillionaire," she rationalized, if she chooses to pursue a book. "So I'll probably end up in court for the next … but I have to tell my truth. I'm tired of being muted. All the stuff that I just put on a shelf somewhere out of loyalty. I've been defending somebody for so long, and I'm now I'm like, 'Yo, you are a special kind of fucked up, and that special breed, they're about to learn all about it.' " She added: "I haven't even told people some of the horrors I experienced."
Get on that, publishers.