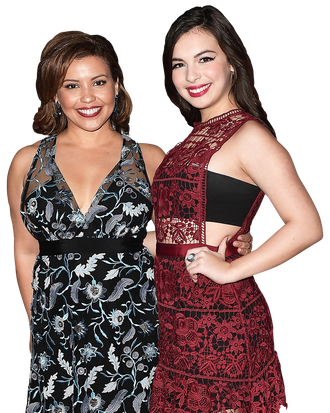 In its second season, Netflix's One Day at a Time reboot gets miraculously deeper and more confident. The show confronts issues like depression and immigration without losing its sense of humor or becoming didactic, and in the season finale, it swerves into a darker story. When the family's matriarch Lydia (Rita Moreno) is sent to the hospital, her daughter Penelope (Justina Machado) and granddaughter Elena (Isabella Gomez), among others, stop by her bedside one by one. Vulture sat down with Machado and Gomez to talk about filming that finale, their favorite Rita Moreno stories, and the season's running joke about Vicks VapoRub.
I wanted to start by asking about the season finale, because it's such an emotional turn for the show. What was it like to shoot those scenes in the hospital room with Rita?
Justina Machado: Well, we prepared for this. We only have five days to do an episode, so we even came in on a Sunday on our own time, and our fabulous director Pamela Fryman came in, and we ran through them. What we wanted more than anything was it to be seamless and only to have to do each monologue once, maybe twice. We knew it was going to be a lot of hard work. I loved it. I really did. It was a great acting exercise for me and I had a lot of fun doing it.
Isabella Gomez: It was so painful! I cried so much! It was interesting, because Justina can handle her emotions so seamlessly. You can watch, in the monologue, you can see exactly where she lets herself go. Me, I don't have that kind of control yet.
JM: Not yet! But she's pretty damn good.
IG: Justina's helped me a lot with it. It wasn't even difficult to get there, it was difficult to control it. It was also difficult to control it in other scenes when I was hearing other people do their monologues, and it was difficult to watch them do those monologues. I always thought I was a dramatic actress, and I love those scenes, but it was the one week on set where I was like, "I'm going to go to my room and I'm going to chill because emotionally, this is a lot." Seeing Rita like that and seeing her all tubed up, it was too close to home.
The season feels like it gets a little darker. It's still funny, but you have these big emotional turns like the finale. Going into filming, did you talk about that with the writers?
JM: They told us that, because the beginning of the season was pretty light, even though we hit on topics and we still make our points. They did that strategically. They wanted the beginning to be more fun, because they kept saying, "It's going to turn, it's going to turn." I think it turned around [episode] eight, when [Penelope's ex-husband] Victor comes back and there's the flashback and you get to see what they were like. Last year, it was serialized. It was all leading up to the quinceañera. This year, it was different.
IG: They definitely put a lot of thought into what's happening at what time, so that when we get to the end, it's impactful. People haven't been sobbing for six hours and then get hit in the gut at the last one.
Definitely. The plots also take you by surprise, like when Penelope decides to go off her medication and becomes depressed. How did you approach that story line, Justina?
JM: I've seen it, you know? I mean, I get depressed. But never has it debilitated me. I've never been where I can't move or I'm paralyzed. I just went for it. Of course, there were people on our staff and our crew that do go through that and have gone through that, so of course they help me.
I cannot believe the response. So many people are like, "This is what I feel like, this is what happened to me." It was way more powerful than I even imagined it could have been.
IG: I have a family member whose mom has depression, who has been on antidepressants since she was born. She texted me, "This was like watching a documentary of my life." Nobody talked to her when this was happening. Nobody explained this to her. She was like, "This was the first time that I see what happened to my mom and I understand what was happening and I feel like I'm not alone."
The show also discusses the misconception that depression is a weakness, or something you can simply power through.
JM: Lydia doesn't understand, because that is old-school Latino mentality. It's like, "Come on, move through it, get over it!" I believe in therapy. I've been to it, believe me. I totally believe in it. But there's still that old-school mentality like, "Get up, get up and get through it." Sometimes you just can't. That's what's so beautiful. Even me, I learn something.
You can't just put Vick's VapoRub on it, like Lydia suggests.
IG: But it does help!
Where did that running joke come from?
JM: Oh, that's for real. Because Gloria …
IG: Because half of us are Latinos!
JM: Because half of us are Latinos and we know Vick's VapoRub! I'm Puerto Rican, I grew up in Chicago. I thought it was just Puerto Ricans. And then, [gestures toward Isabella] she's Colombian.
IG: We call it Vi Vaparu.
JM: You walk into any Latino's room — I have this Colombian friend who's on Broadway, he was in Hamilton, Jon Rua. He has Vick's VapoRub by his bed. I'm like, "Seriously, Jon?" He's like, "Yeah, it works."
Elena starts dating after coming out last season. She educates Lydia about pronouns, and you get to see what queer life, dating life, is like for a high-school kid. What's it like to play that, Isabella?
IG: It's so cool to be able to bring that representation. I also learned so much. The pronouns was a new thing for me. I had heard about it, but didn't quite understand so they had to teach me all of that. The LBGTQ fans are incredible. They are so excited to finally see themselves represented, and represented accurately and be respected, and not be the butt of a joke.
Of course, Rita Moreno is wonderful and so charming. Do you have any favorite stories about working with her?
JM: I mean, every day is hilarious with Rita and that's no joke. Every day there's something. I wish I could think of one story, but what I do know is that the audience, on show night, just loves her. She gets away with stuff we could never get away with.
IG: I think we were filming the pilot, I walked on stage and there was like a little crowd around Rita. She was very casually talking about dating Elvis Presley so she could make [Marlon] Brando jealous, but like it was nothing. I was like, "Wait, the Elvis?" She's like, "Yes."
JM: You know what you learn from her, really? To take your time. Because she takes her time with stuff. She takes her time and she always delivers.
I think it's so funny that Ivonne Coll from Jane the Virgin got to play her rival.
JM: Well you know, Ivonne Coll, she and I were roommates when I was 25 years old. I have known Ivonne Coll since 1995 and she's played my mother many times and we're very dear friends. I'm so happy for her success on Jane the Virgin, because Ivonne has been around forever and she's always worked and always been brilliant. Then those two facing off? How funny was that?
IG: Ivonne is also the sweetest woman. Because Gloria and Rita and Christine have all been on [Jane the Virgin], when she came on set, it was like coming home. She was like, "Hello, I'm here!"
This interview has been edited and condensed.