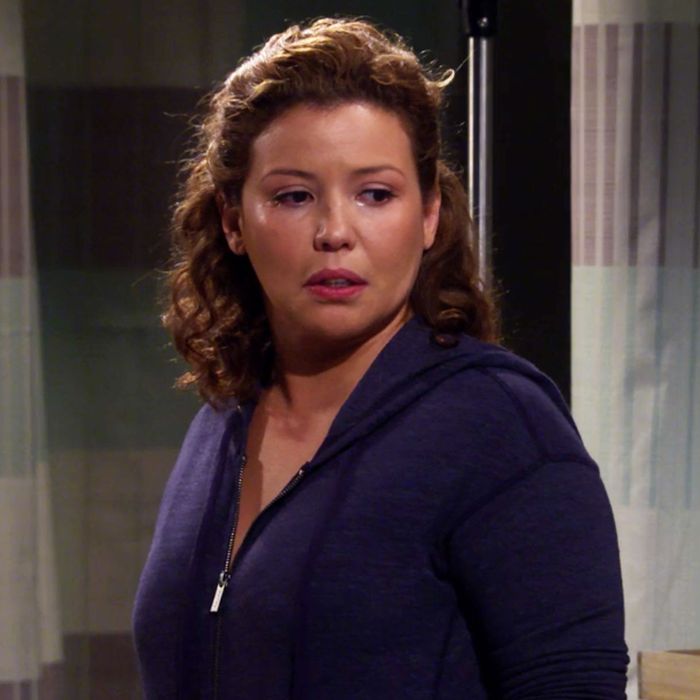 If you wept while watching "Not Yet," the season-two finale of Netflix's One Day at a Time, know that many people cried before you. The writers were in tears as they polished the script. At the table read, where the cast goes through the script aloud, there were audible gasps. The studio audience yelled, "No!" and sniffled as the actors did their thing on the Sony stage during filming.
Even Rita Moreno, who had to lie still in a hospital bed for much of the episode, had some trouble. "I remember at one point saying to myself, 'Uh-oh, no, you can't cry. You can't cry. You're supposed to be unconscious,'" she told Vulture. "And I remember one tear started to happen. I think it was my right eye and I talked to the tear and I said, 'Don't you dare!' I did. I reprimanded the tear. I said, 'Don't you dare go over onto my cheek, I'll kill you.'"
"Not Yet" covers a scary period in the lives of the Alvarez family. The morning after Penelope (Justina Machado) and Lydia (Moreno) have a heated fight, Penelope finds her mother collapsed on the floor. Written by co-showrunners Gloria Calderon Kellett and Mike Royce, the finale takes place almost entirely in the hospital room, where Lydia lies in a medically induced coma after a surgery and the family waits at her bedside. "It's hard to get Moreno to lay there," Calderon Kellett recalled. "That woman moves more than anyone I know."
Moreno expected the gig to be easy — just lie down and take a nap while everyone else did the heavy lifting. "But that was not at all what happened. I really felt that if I slept I would miss something," she said. "It was difficult, but I was absolutely filled with everything everybody was saying. And it was very moving the way everybody did their stuff in very different ways."
The writers were inspired by a Maude episode, "Maude Bares Her Soul," which featured Maude (Bea Arthur) at a therapist's office and doesn't ever show the therapist. "It's a 25-minute-long monologue and it was so good," Calderon Kellett said. "We love our long scenes and the theater of multi-cam, so we thought it would be cool to give all of the actors a chance for their own monologues. The trick was to connect the monologues, to have moments of levity as well as the emotion. It's the truest to theater of any episode we did this season."
As they wait for Lydia to awaken, each member of the family describes how they feel about her. Alex (Marcel Ruiz) paints her nails and shares church gossip; Elena (Isabella Gomez) applies lipstick to her as she laments forgetting Spanish and losing a connection to her grandmother because of it; Doc (Stephen Tobolowsky) plays music and confesses that she is the love of his life; and Schneider (Todd Grinnell) decorates the room with lights, candles, and an Alvarez family snow globe, which of course includes himself, and poignantly says, "We are not losing anybody today."
For her part, Moreno maintained her cool until it was Machado's turn to deliver Penelope's good-bye speech to Lydia. At first, Penelope is still angry about their fight, but as she keeps talking, she admits she's not ready to lose her mother. Finally, Machado delivers a tear-jerker. "You did a really good job of being my mami," she says, before she starts to sing "Cielito Lindo" and gets in the bed with Moreno.
"Don't we really seem like a real mother and daughter?" Moreno says. "Justina and I have this absolutely superb chemistry. Some of it is hilarious and some of it is just heartbreaking. My favorite things are my fights with her because we always turn into fieras. We become these very Latina women with the hands going and the eyes going and the snorting and the carrying on."
Despite Moreno's threats to her own tears, a few still managed to escape. "There were a couple of times during Penelope's monologue that we had to wipe tears from Rita," Calderon Kellet said. "She had to really sit there with that, but she was unbelievable and she didn't move. At one point, we pulled a screen in front so she could stretch her legs for a moment 'cause it's hard to lay still like that for hours."
It is a scene that could have easily played out in Calderon Kellett's own Cuban-American family. "When people pass in my family or when people are in the hospital, there is a sort of vigil that is held and everyone goes in," she said. "Certainly with my abuelita and my abuelito, everyone goes in and says their last things to them. We realized we had a built-in play that we could do in one place where everyone goes in and has a monologue and the audience gets to discover things about them as they say their good-byes to Lydia."
But was adiós ever a real possibility? "No, no, no, no, no. No! No, we'd never kill Lydia! No way!" Calderon Kellet says, laughing. She understands the concern, though, especially because the episode includes a priest with the Last Rites and the Cuban cure-all Bibaporruú. Not to mention the stunning, dreamlike moment when Lydia's late husband Berto (Tony Plana) enters the hospital room and she gets out of bed in a beautiful gown.
"I'm pretty good at anticipating the audience's reaction, but when Tony walked in the first time, the audience lost their mind and we actually had to have our director Pam Fryman tell them they can't do that," Calderon Kellett says. "People were flipping out!" The crew even passed out tissues to the audience.
The reaction took Moreno by surprise as well, but she understood how the audience felt because the same thing happened to her during the table read. "I went, 'Oh my God!' I gasped," she says. "I thought I was going to die. I thought, 'Jesus! Maybe this is their way of telling me good-bye!'"
Soon after Berto appears, he and Lydia dance together in her glamorous version of Heaven as they reminisce about their lives and deep love for one another. "I love playing with Tony," Moreno says. "Tony is such a lovely actor. And Lydia's love for her dead husband is always very, very moving. Her love for him is profound. I was so glad they brought him back but it really scared the audience."
As the scene evolves, all signs point to Abuelita's imminent death. They talk about the things Lydia will miss, like Elena's many graduations, and how Penelope will go on without her mother. "My work here is done," Lydia says. But then Berto asks a direct question: "So, mi amor, is it time?" Lydia smiles and says sweetly, "Not yet, mi vida."
"It's a real lump in the throat, isn't it? These writers are murderous," Moreno says about the line. The studio audience celebrated so much that Fryman had to ask them to settle down for another take.
"A scene like this is cheesy," Calderon Kellett says. "That dreamlike Heaven scene is hard to pull off! With Berto coming in from the white light, that could be cheesy in somebody else's hands. But we have the benefit of the gravitas of these actors. They are just so good at the theater of it that people are willing to suspend disbelief and really allow themselves to be taken into this moment of her subconscious and what's happening as she is deliberating life and death."
After Lydia finally wakes up, the episode — and the season — ends on a happy note, with her and Schneider both becoming U.S. citizens."In the first season, Lydia doesn't have her citizenship and everyone is shocked," Moreno says. "But I understand why. You're taking something out of her soul. I personally feel it's unfair to ask someone to give up their ties to their native country. It's horrible, frankly. It's enough of a sacrifice not to be there anymore but to have to give up where you come from is heartbreaking. But that's why I love this show. I love what it stands for. It is so far beyond the original show."