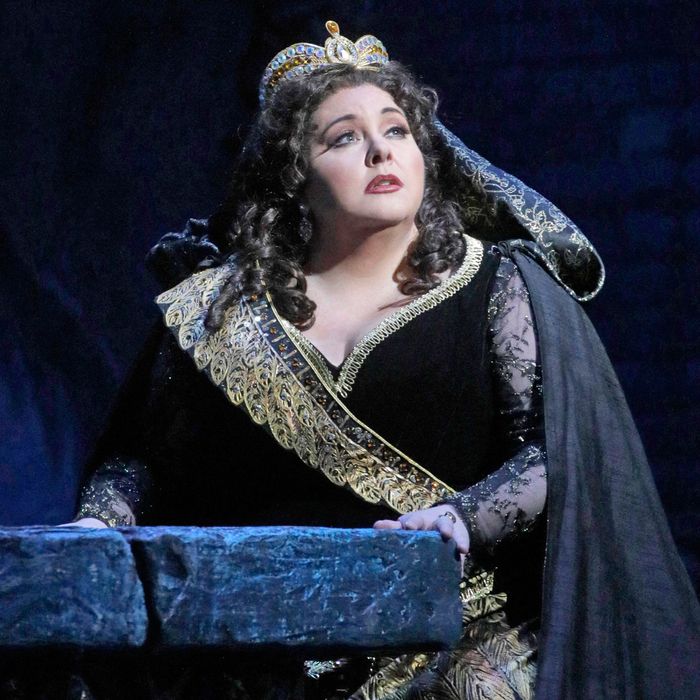 Angela Meade in
Semiramide.
Photo: Ken Howard
If you happened to be out of town (or, say, in kindergarten) in the early 1990s when John Copley's production of Rossini's Semiramide ran for 19 performances, then the only other chance you might have had to see this opera at the Met was in 1895. The reason for this third appearance in three consecutive centuries is simple: Angela Meade, the soprano whose high-horsepower voice and hummingbird nimbleness is a rare match for Semiramide's semiquavers.
Even after decades in storage, this long-deferred revival has plenty of glister: in the elaborate Assyrian sets by John Conklin, who, when in doubt, just kept adding more griffins; in Michael Stennett's seven-layered Babylonian robes; and in a sparkly cast that includes Javier Camarena, Ildar Abdrazakov, and Elizabeth DeShong. Copley's production hearkens back to a not-so-ancient past when opulent stage effects had to be carpentered and painted, rather than conjured with software and light.
On opening night, the singers sounded tight in the opening numbers, then gradually warmed to the insane task of having to pack so many wild notes into each bursting measure. The task precluded amalgamated ensembles, or much of a rapport with the orchestra, led by Maurizio Benini, and the performance barely even skimmed over any psychological depths. Occasionally, I roused myself from the moment-to-moment wonder and realize I had no idea what was going on. The plot outlines what a friend of mine calls a "love pentagon." The Indian prince Idreno and the evil Babylonian courtier Assur both hope to marry the Babylonian princess Azema, who has no interest in either but does harbor a secret love for the warrior Arsace. The Queen Semiramide wants Arsace for herself — which is a problem, since he turns out to be her long-lost son. Capisci? (The revival packed some pre-opening-night sexual drama, too, when the Met fired the 84-year-old Copley after he made a charged comment to a chorister.)
This structure serves less to create a cogent drama than to maximize the interplay of vocal timbres. Abdrazakov's dark-alley baritone sets off Meade's opalescent highlights; DeShong sings the mercurial young man Arsace with a coppery mezzo-soprano that makes him seem more sensitive than brave. The only relationship that really matters in this opera is that between each singer and the audience, its warmth measured in shades of shouted "Bravo." Each aria and duet is the vocal equivalent of an Olympic figure-skating routine. We ordinary mortals could no more sing along than we could levitate, twirl four times, and land on a speeding blade. And yet we sit in judgment not just of the feat itself but of the grace, fluidity, and passion with which it's executed. Meade glides through one musical triple lutz after another as if she could keep going all night, and it hardly matters that her character is a homicidal manipulator and monster mom.