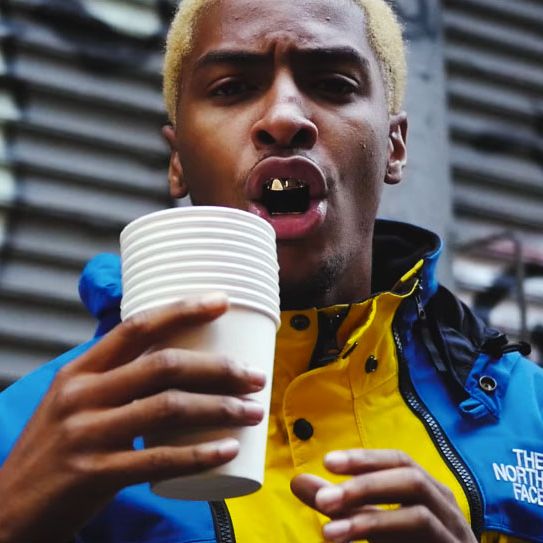 One of the most heartening stories in music during recent months has been the rapid rise of Nick Simmons, the 18-year old rapper from Birmingham, Alabama, who performs as YBN Nahmir. Having gained a modest reputation freestyling during Grand Theft Auto livestreams, the artist broke out with "Rubbin Off the Paint," a song whose wry skepticism, understated pride, and good humor, filtered through Simmons's compact, nasal delivery and enhanced by a brisk, buoyant beat, has earned it over 90 million YouTube plays since its October release. Lifted by streaming onto the Hot 100, where it peaked at No. 46, the track established Simmons as a future star with a distinct aesthetic. Though he hails from the South, Nahmir's primary influences are from the Bay Area and Chicago; though his songs perform well on SoundCloud, the fog of anger, angst, abrasion, abuse, and bright colors that swirls around the phrase "SoundCloud rapper" escapes him. Nahmir's image is one of a cheerful, sharp, unflashy kid armed with a handgun, and he's building a huge fan base off of its strength. The video for his latest song, "Bounce Out With That," released three weeks ago, already has 24 million YouTube views; last week, it was the top song on the SoundCloud charts by a staggering margin.
And then, suddenly, it was gone, or rather replaced. Comethazine, a west Illinois rapper recently signed to Alamo Records, had usurped Nahmir's position: A copy of his recent track "Bands," the official version of which has racked up a respectable but far from dominant 300,000 SoundCloud streams total, had inherited the chart data of "Bounce Out With That," which is to say roughly 3.75 million streams during a single week.
Shady doings were afoot. How had this happened? Though the SoundCloud account that posted "Bounce Out With That" looked like Nahmir's official account, complete with profile photo and name, it was only a replica. For whatever reason, Nahmir's actual account (nahmir205) had neglected to post the song on SoundCloud, leaving the door for the impostor account (ybn_namir) to post the song in his stead. One (assumed) transaction between an unknown Comethazine booster and the owner of the impostor account and one use of SoundCloud's ability to edit the title and content of existing posts later, Comethazine was, technically speaking, the hottest artist on the platform.
Regular visitors to SoundCloud were no doubt annoyed but not surprised. Though 49 of the site's top 50 tracks are songs from official artist accounts, the site is plagued with secondary accounts posting primary content, all of it loaded with track info designed to game the system's search algorithms in their favor. If other platforms have problems with "fake news," SoundCloud has problems with fake music, and in both cases the issue is more feature than bug. For capitalist reasons the platform's protocols are designed to track and maximize high traffic, not to identify and minimize deceit; fakery abounds because the profit motives of the platform and the hustlers using it align.
It's clear that though the account that swapped out "Bounce Out With That" for "Bands" has been taken down, its pattern of behavior remains endemic. (The one song on the top 50 that's not official is yet another copy of "Bounce Out With That," with 966,000 streams this week for 5.62 million total.) Why build a large audience from scratch for your song if you can afford to purchase the appearance of one? It's inarguable that the advent of streaming has altered the dynamics of the music industry, boosting hip-hop and young artists to new heights. Yet even if the game has changed, the players — scammers, in this case— are the same.