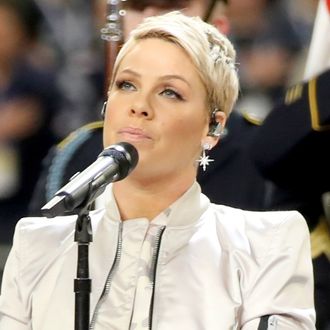 Pink.
Photo: Christopher Polk/Getty Images
People had a lot of guesses as to what object or substance, exactly, Pink had to spit out immediately before belting out the national anthem prior to Sunday's Super Bowl LII. Was it gum, they wondered on Twitter? Was it candy? Was Pink eating some sort of Willy Wonka five-course gobstopper meal immediately before performing at one of the most-watched live televised events of all time?
Of course not. Pink is a professional. She is also very sick with the flu. Just to make sure everyone knows she wasn't just woofing down Fruit by the Foot on camera or something, the singer tweeted a clarification. So now we know. Of course, the larger mystery still stands: How does Pink still sound so good with the flu?