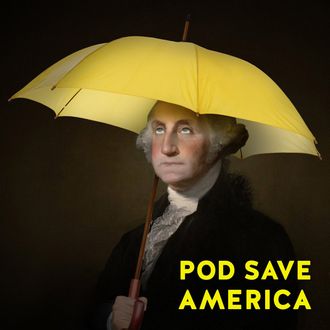 Pod Save America — the wildly popular political podcast by former Obama aides Jon Favreau, Jon Lovett, and Tommy Vietor — has struck a deal with HBO to produce a series of hour-long specials. The specials will follow the trio as they host live tapings on the campaign trail for the upcoming midterm elections in the fall. This jump to TV is natural fit, as the team has already developed a live-show circuit with tapings held in Austin, Cleveland, Chicago, Richmond, Washington, D.C., Philadelphia, and all around the state of California. The podcast doubles as the spearhead of Crooked Media, the trio's digital company that's meant as the basis of a liberal response to conservative talk radio.
This development is the latest entry in what has become a full-blown trend. In recent months, podcasts have (perhaps somewhat surprisingly) emerged as Hollywood's hottest new source for material and intellectual property, as we noted last week, with an assortment of podcasts including but not limited to Dirty John, Welcome to Night Vale, Limetown, and various Gimlet properties slated to hit the silver and small screens in some form or another in the coming months. The reason for this is relatively simple: the wild and budding podcasting universe remains a creatively vibrant space where new ideas and creators can be tested in a marketplace with relatively little risk, thus functioning as an effective fishing pool for a film and television industry hungry for proven, bankable assets.
But this Pod Save America deal is particularly distinct for what it highlights about HBO's participation in this trend. To begin with, it will be HBO's second adaptation of a podcast that takes the form of a series of specials, the other being 2 Dope Queens, Jessica Williams and Phoebe Robinson's WNYC Studios podcast whose hour-long specials debuted on the premium cable channel last weekend to positive reviews. Both 2 Dope Queens and Pod Save America are podcasts ready-made, in their own ways, for a new kind of hour-long special, a television form traditionally reserved for straightforward stand-up programming. Given that HBO has been facing intense competition from Netflix for stand-up specials — quick reminder that Netflix reportedly shelled out $20 million for each of Dave Chappelle's three specials — this budding model of mining podcasts for new kinds of specials could prove interesting for HBO's efforts to outflank its streaming rival in this content area. This project also marks HBO's third dealing with podcast-centric talent in recent years, if you add Bill Simmons, whose Any Given Wednesday talk show (now defunct, having been cancelled after just 17 episodes) felt more like a live on-set podcast taping than anything else, to the list.