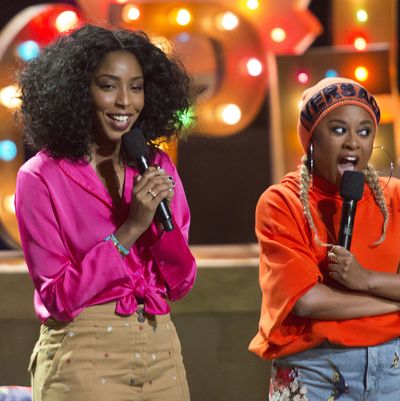 On Wednesday, The Hollywood Reporter published a piece solidifying, in the media and entertainment trade press, what podcast observers have felt to be true for a while: podcasts, the bizarre little corner of the wider media ecosystem, are now hot commodities for Hollywood execs to mine and refine into content diamonds for more lucrative platforms like film, television, and the ever-expanding technological blob known as streaming services.
We've been seeing a steady stream of reports on podcast-to-film and podcast-to-television adaptations for a while now. A deeply incomplete list of examples: WNYC Studios' 2 Dope Queens is being turned into a series of HBO specials. The L.A. Times' Dirty John, repped by WME, will be carted off to Bravo and Oxygen as two separate projects. Welcome to Night Vale went to FX, with fellow Night Vale Presents podcast Alice Isn't Dead slated for the USA Network. Aaron Mahnke's Lore hit Amazon in October. We're still waiting on Serial, which was picked up by Fox 21 Television Studios in September 2015 to be adapted into a TV series under the guidance of Phil Lord and Christopher Miller.
And of course, there's Gimlet, perhaps the buzziest and most strategically concerted IP peddler, which has no less than three projects officially in the pipeline: Homecoming, the star-studded experimental fiction podcast which will be adapted by Mr. Robot's Sam Esmail and star Julia Roberts; Startup, which will soon hit ABC as Alex, Inc. starring Zach Braff; and Reply All's "Man of the People," currently being developed as a Robert Downey Jr. film directed by Richard Linklater. Gimlet is connected to yet another podcast adaptation in the works, the dark love letter to Providence known as Crimetown, which it helped produced but is owned by Marc Smerling and Zac Stuart-Pontier. That project is headed to FX. This week, Gimlet announced what can only be described as the logical end point of all its Hollywood wheeling and dealing: the formation of Gimlet Pictures, which now has the bizarre distinction of being the film and television wing of what is principally a podcast company.
These are heady times for podcast makers with an eye on Hollywood. That said, it's worth remembering that there's plenty of precedent for podcasts getting adapted for other mediums. Scott Aukerman's Comedy Bang! Bang! was among the earliest podcast-first projects that was converted into a television show, which took the form of a hybrid sketch-talk-variety show that premiered on IFC back in 2012. That adaptation lasted five seasons, ending at the end of 2016, though the podcast remains very much alive. Marc Maron, of WTF fame, had his own TV show on IFC, a single-camera sitcom built around a fictionalized version of him and his podcast. Maron debuted in the summer of 2013, four years after the birth of WTF With Marc Maron, and lasted four seasons, with the series finale dropping in 2016. And if you want to go further back, you could even point to the adventures of Ira Glass and This American Life on Showtime, which ran for two seasons between the summers of 2007 and 2008. Of course, the TV version of This American Life could be more accurately considered an adaptation of a radio show and not a podcast. And moreover, that situation was more of a radio-documentary team trying its hand at a whole new medium, as opposed to a new medium harvesting the ideas of an existing creative team. Nevertheless, there is an interesting line that you can draw from that show to the present moment: Alex Blumberg, the founder and CEO of Gimlet Media, was an executive producer on the TV version of This American Life, and one can only presume that his experience informs his company's current push into film and television.
So, what is distinct about this contemporary crop of podcasts heading to the silver and small screens? With the exception of 2 Dope Queens, it's notable that the wave of adaptations we're seeing right now has a particularly strong focus on podcasts as a vibrant source of intellectual property — and not necessarily talent, as in the historical cases of Maron and Comedy Bang! Bang! (You can also include the more recent TV adaptations of Throwing Shade and My Brother, My Brother, and Me, both now defunct, into this latter category. Also: Viceland's Desus & Mero, technically adapted from Bodega Boys, which continues to anchor the budding TV network's 11 p.m. slot.) This is commoditization of podcasts-as–intellectual property resource pool is a natural consequence of the broader trend that the film and television industry has been exhibiting for a number of years now: a rampant hunger for narratives and properties that have already gone through some prior market testing on their own accord. We're neck-deep in an age that features both Peak TV and a movie business with an ever-decreasing tolerance for failure, and the two industries are aggressively looking for anything that has a built-in crowd to snatch up and further monetize, because it's much less risky to option content than to develop original IP within their higher-stakes, higher-cost environments. And lo, Podcastland these days is a hoppin', dynamic, and comparatively lower-stakes/lower-reward place that boasts really, really engaged audience bases.
But it's also worth noting that this exciting moment the podcast industry finds itself in is composed of pure potential energy — we have yet to find out if it will actually pay off. With the exception of Lore, the podcast-to-film and -TV-adaptation narrative is propelled forward by projects that haven't actually hit the market yet.
What, then, is the best way to think about this invigorating point in time for podcasting? In July, Chris Giliberti, the head of the newly formed Gimlet Pictures, told Wired: "The potential over the long-term is a business that could look a good bit like Marvel." The evocation of Marvel, and how it ushered in an era of comic-book adaptations utterly dominating the modern film and television landscape, is a useful framework to consider where the industry is at the outset of 2018. Viewed through that lens, you could see Maron and Comedy Bang! Bang! as roughly analogous to, say, the cohort of the comic-book movies that hit theaters in the late '90s: Spawn, Blade, and hell, maybe even Shaquille O'Neal's Steel. Right now, then, the podcast industry is waiting to see who will be its Iron Man.