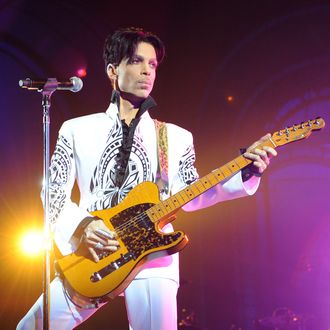 Prince.
Photo: Bertrand Guay/AFP/Getty Images
Hey, at least J.Timbz won't have to worry about accidentally ripping off his chest fabric. TMZ is reporting some very intriguing news out of Minneapolis: During the Super Bowl's halftime show later this weekend, Justin Timberlake will apparently be joined during his performance by a Prince hologram to honor the late musician in his hometown. Will they duet on "Senorita"? Pal around together while giving the Purple One's technological spirit free rein to shred some Fender Telecasters? Have a Lady Bird–inspired moment? Who knows!
Update, February 4: It's not happening. You can breath now.