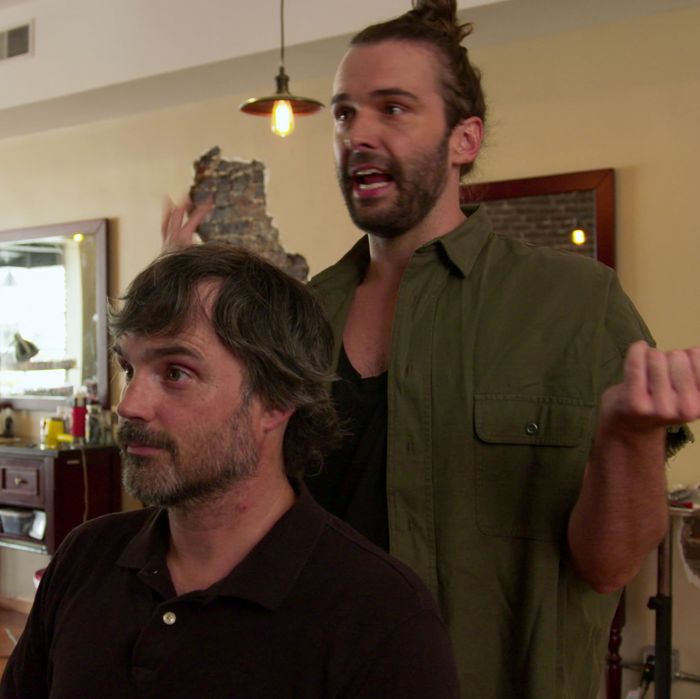 Photo: Courtesy of Netflix
This episode of Queer Eye, more than anything, reminded me of those episodes of Extreme Makeover: Home Edition where Ty Pennington would find someone who had a disabled child, was thrown out of her house, fostered 17 children successfully, or was a former henchman to an evil supervillain and needed to find a new job since his boss was blown up by the Justice League. You know the type: someone who has it really bad until the design team turns their house into a palace of themed design and race-car-shaped beds for the kids and we would all cry our eyes out instead of gagging about the awful design.
That is what happens with this episode's subject, Bobby. He and his wife Vera are good Christian folk who have six children and live in a house so small that someone on Tiny House Hunters would reject it because it doesn't have enough storage space. When entering the house, everyone comes in through a sunroom that is more cluttered than a Manhattan Mini Storage space that was taken over by rats. The room isn't functional at all. It is like someone held an indoor yard sale: We see a stroller, a bunch of broken chairs, stacks of manuals to household appliances that no longer exist, some mildewy afghans, and all other signs of detritus from a big family in too small of a space.
The kitchen is just as bad, dominated by sippy cups and dirty dishes. Are sippy cups just for like kids of all ages now, because I was done with that nonsense when I was 3 and moved on to Star Wars jelly glasses we got at McDonald's. You know, like a real grown-up. The family also shares one bathroom and considering there are a bunch of girls with long hair, just peering into the door made me feel like a wet hairball was sitting in my underwear.
So, yeah, Bobby has all of these kids to take care of and works two jobs and sleeps only three hours a night. I don't know how that is physically possible. If I don't get my eight hours, I'm passing out on the subway, in meetings, and while standing at the counter waiting to order my fourth doughnut of the day. Bobby doesn't look all that awful, though. He just looks like a guy who doesn't have a lot of money for clothes, hasn't shaved in three months, and gets only three damn hours of sleep a night.
This episode also seems like an infomercial for Target, where the Fab Five take Bobby to find just about everything they need. I think this isn't a bad idea because, like Antoni points out, that store is made for someone who doesn't have much time and money and can pick up a pair of $19.99 jeans while getting all of the kids' Lunchables for the week. Antoni takes three of the kids shopping with Bobby and they buy everything they need to make chili. A stable of Crock-Pot recipes is good for this family, since they can set it up when they leave in the morning and a big, fat dinner will be ready for eight people when they get home at night. Let's just hope that it doesn't burn down their whole house like on This Is Us.
Tan does a great job at Target getting Bobby into clothes that actually fit him. If there is one thing that I've learned this season on Queer Eye, it is that most guys would look exponentially better if they just bought things that fit them rather than giant cloth sacks. Dudes, how hard can that possibly be? Bobby gets some colorful polos, some nice khakis, and some shoes that are actually attractive and not full of holes. Bobby used to insist on wearing those straight-guy hooves that look like a bunch of leather scraps pasted together and called something resembling sneakers. Maybe they're Skechers, because they sure look really sketchy. I mean, a pair of Converse or Stan Smiths are going to go a whole lot further and are just as simple and accessible for most guys.
Jonathan doesn't have much work to do here, just a standard haircut and shaving off Bobby's sad salt-and-pepper beard that looks less like a fashion choice and more of just a weary wearing-down of the hair follicles on his face. I was secretly hoping that they were going to leave a mustache when shaving off his beard, because Bobby would be one seriously hot '70s porn-star Zaddy if they could have gotten him to rock that. He ends up very handsome anyway, like a slightly older Timothy Olyphant. You know the type: He could totally play a Russian superspy in a James Bond movie, but also would cuddle with you all night long.
Karamo does absolutely nothing in this episode except get a free haircut from Jonathan while Bobby is off changing his clothes or something. God, Karamo is absolutely good for nothing.
Even designer Bobby does more than that in this episode. The two Bobbies had a nice moment in the front yard while doing some gardening, when Malibu Bobby tells Pastor Fertility Bobby all about how hard it was to grow up gay in a very conservative Christian household. Now, obviously, St. Bobby has to be cool with gay dudes or he wouldn't have been on this show in the first place, but it was really nice to hear that he's down with us.
Finally, we see what the new house looks like. Honestly, High Heel Realness Bobby could have just thrown out all of the junk and left everything the same and it would still have looked remarkably better. Instead, he turns that sunroom-slash–storage room into a rec room with a dining room table. But where did all the stuff go? Did he build three sheds out back for all of that crap? As for the rest of the house, who knows? Could they have just found six tiny houses from Tiny House Hunters and built, like, an Ewok village in the back for all of those kids?
With the makeover complete, Bobby and Vera invite all of their friends over and get the wedding and reception that they always wanted. It is very sweet, even if it is a little bit unnecessary. Bobby says that he felt like the clutter and chaos of his house made him feel like he wasn't enough as a man and a father, but now he feels a lot better. He may be the most boring makeover recipient we've seen so far, but he's probably the most deserving given everything he goes through to support his family. Even if the Fab Five just stopped by to clean up, I feel like that would have been a welcome gift for this Christian dad.