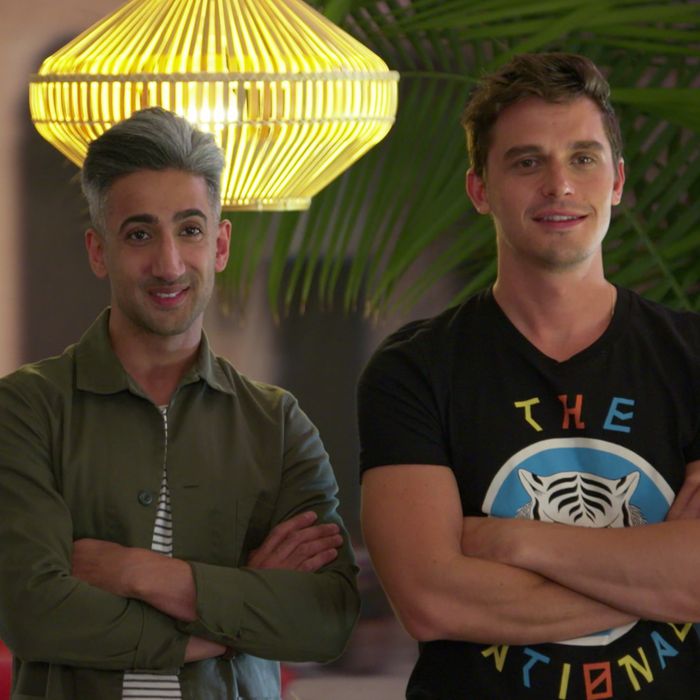 Photo: Courtesy of Netflix
Usually I'm pretty sad when the Fab Five roll into someone's house. I was especially sad when they arrived at Remy's house but for a totally different reason. I was crying real tears not because the house was so disgusting, but because I knew that Bobby was going to destroy the '70s camp palace where Remy lives. It was his grandmother's house that he inherited, and it hadn't been redecorated since Ronald Reagan was still governor of California and no celebrity astrologer had ever been invited to the White House.
That is to say, the house was absolutely perfect. The front living room had Mountain Dew–green shag carpeting, yellow furniture, yellow drapes, and a huge printed mural on one accent wall. It is the closest I have ever seen a room in a real person's home look like the Jungle Room at Graceland. (The Jungle Room at Graceland is the centerpiece to every design Pinterest board I have ever made, which is to say the one design Pinterest board I ever made.)
Remy sleeps in the room that belonged to his mother growing up, which I find curious for a few reasons. My first question is, why doesn't he sleep in the master bedroom if he shares this place only with his cousin and roommate Ponder, who has the best name for a secondary reality-show character I have ever encountered in all of my years? Why they hell didn't Remy take the big room? Could the design possibly be so bad it kept him in his mother's room? She has yellow dresser and a yellow bed frame. The curtains are swagged in pink and purple like a quinceañera dress that is supposed to keep out the sunlight. There is a giant woodland mural on the wall. The only thing missing is a fake deer head to hang in the center of it. I would live there and build shelves to house a collection of antique cookie jars that I've been working on and maybe a few framed covers of gay porn magazines from the late '70s. I would like nothing more.
I hate to admit it, but Bobby didn't do such a bad job transforming the house. I figured he would eliminate all the character and make it look like the waiting area at a Chili's in Arlington, Virginia, which is sort of his design aesthetic, but he somehow managed to update it and maintain some of the very distinct character of the house. It seemed like he was going to ruin Remy's bedroom furniture when he just took the existing stuff and painted it a more "masculine" blue, but he really did transform it. Now it looks nice and retro without being garish.
Bobby kept some of Remy's grandmother's original art and some of the kitschy things she had in her kitchen and repurposed them. He even put up a new mural, one of a Cuban street scene in the living room and made it look less like the Jungle Room and more like a skateboard shop in a mall which, I'll be honest, isn't the worst look. So good job, Bobby. I give him major points for giving Remy a distinctive but totally new house, and I will just have to savage his design choices another day.
But Bobby was the only one of the Fab Five who was really working this episode. I have to say, other than the house, Remy didn't have that much to improve. Jonathan took him for a simple haircut and shave and his biggest contribution was getting Remy to floss with a Water Pick, which is some kind of device that sprays water into your mouth with a velocity usually reserved for Olympic lugers and drunk 20-somethings falling out of cabs in the vicinity of NYU. It makes an absolute mess. I mean, is regular flossing that hard? Even if it is, it's not going to leave spots all over your mirror and it doesn't require batteries or charging or anything.
Tan did have the challenge of getting gym rat Remy out of his habit of only wearing workout clothes, which I feel like is something he's going to be back to in a matter of weeks. Remy works from home. As someone who also toils on his couch, I will tell you that I go to the gym and then sit around in my smelly workout clothes until I bother to crawl into the shower somewhere around five minutes before I have contact with another human. (Some days that doesn't happen and I fall asleep in those stinky gym clothes with empty Thai food containers scattered all around the living room.) Tan gets him into some nice clothes, a little bit more dressed up but nothing major. Tan loves putting straight guys in a T-shirt with an undone short-sleeved button down over it. It's not a bad look, but he needs a few more tricks up his rolled-up sleeves.
Tan did find Remy's father's old hat in a closet. (They also found boxes of Remy's grandmother's old hats including a sequined beret that I am positive Jonathan shoved down his pants and brought back home to L.A. with him.) It is clearly the thing that Remy, who lost his father several years ago to an unexpected heart attack, loves the most. I don't have the heart to tell him that one shouldn't really wear a hat indoors unless you are any man in a nightclub or any woman in a church.
Antoni sort of took the week off and just went to hang out with Remy's mother Esther and stole all of her recipes. Ladies and gentlemen, Esther is a star. I would say that the Fab Five need to make her over so she could get some more screen time, but she is absolutely perfect just the way she is. Here is a mother that has no problem reading her sloppy son to filth on national television (or whatever the fuck we're calling Netflix), will bake a sweet-potato pie for a visiting homosexual, and then will read her son to filth again after he's improved, just to keep him humble. All of this while sporting the best hair this side of the Real Housewives of Atlanta.
Antoni shows Remy how to make mac-and-cheese, green beans, and a couple of other family staples so that he can start having holiday parties in his grandmother's house again. Esther promises to help him cook, and I would like Esther to promise to invite me because I have seen what she can do to a sweet-potato pie and I want in. Antoni also tells him to make a whiskey punch and is just like, "Oh, just throw some shit in a bowl with some ginger ale and you'll be fine." Antoni must be spending too much time with Karamo because he is doing the absolute least he could do this week.
As for Karamo, I don't know. He, like, took Remy to some kind of whiskey tasting or something. Then, as they're bro-ing out and drinking, Karamo tells the single Remy that a date would love something like this where he could tell the ladies all about how to drink whiskey. Um, excuse me? What woman wants to go out on a date and have brown liquor mansplained to her all night long? The only thing she would possibly like less is a trip to a cigar bar or maybe a guy who drags her to watch him play in his deck hockey league. Seriously.
Then Karamo made him a photo book or something with some bedazzled letters on the front. And I thought Antoni stealing all of Esther's recipes was doing the least. The only way I could possibly forgive Karamo for never having any clue what to do is if he filled that photo album of pictures of Remy's grandma's house before the renovation. Now that is something that should really be made into a coffee-table book.