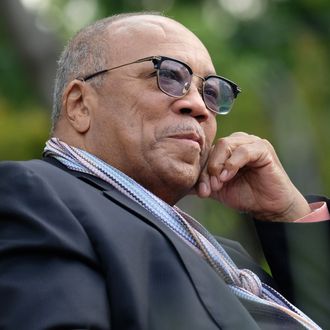 Quinicy Jones.
Photo: Chris Delmas/AFP/Getty Images
Quincy Jones recently gave several interviews (including one with Vulture) in which the music-industry legend was quite candid with recollections about his life and work. In some instances those memories included stories about famous friends he's had over the years, and apparently his children were not pleased with their father's level of frankness on the record. Jones posted a statement of apology to Twitter today after his six daughters apparently staged a "family intervention," and prompted him to consider that, "Even at 85, 'wordvomit' & bad-mouthing is inexcusable." You can read his full post below.
Among many other things, Jones called Michael Jackson Machiavellian and said that he "stole a lot of songs," which prompted Michael's father, Joe Jackson, to call him "jealous." He also made the eye-opening claim that Marlon Brando and Richard Pryor shared a sexual relationship, which led to some disagreements among family members of the men. Pryor's widow heartily confirmed Jones's statement (specifically by saying, "If you did enough cocaine, you'd fuck a radiator and send it flowers in the morning"), while Pryor's daughter, Rain, and Brando's son, Miko, said that was a lie. It's worth noting that while Jones has apologized for his candor, he did not walk back any of his stories as untrue.