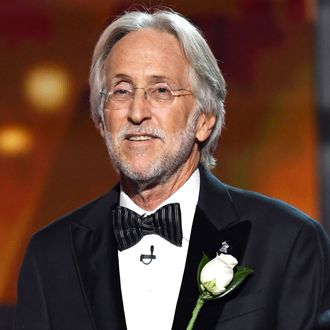 Portnow.
Photo: Kevin Winter/Getty Images for NARAS
After weeks of backlash surrounding the Recording Academy's attitudes about women, as poorly voiced by its president Neil Portnow, there's finally some concrete data about the organization's lack of diversity. As part of the task force launched in the wake of Portnow's comments that women need to "step up" to be included, NARAS, which nominates and votes for the Grammys, has reviewed its membership numbers and found exactly what women have suspected: They're largely outnumbered. According to a letter from the Academy — which warns that its data is incomplete because it does not require demographic information — only 21 percent of Grammy members identify as women. What's more, only 11 percent of its producers and engineers wing are women. (Keep in mind that not all members vote, and no numbers on that breakdown have yet been provided.)
Both percentages are noted for being higher compared to the industry index, which found that only 12 percent of the total population of music creators are women. NARAS says its membership, then, "reflects that of the music community," but that doesn't mean it should. "It's not enough to reflect the community," the letter continues. "We must be leaders in moving our industry toward greater inclusion and representation. Women are 50% of our world. We need their voice and presence at every level."
The letter also pushes back at a recent study that suggested only 9 percent of Grammy nominees over the last six years were women, which NARAS says "troubled" the Academy and forced them to ask, "Could we really be that far behind the rest of the industry?" They say the study only considered five of the 84 categories and that, all told, 17 percent of the nominees have been women. One gaping hole: None of the Producer of the Year, Non-Classical nominees were women. The Recording Academy blames the producer and engineer field for being "almost exclusively male." Over the next few weeks, the Academy says it will roll out out more details on its task force and what it plans to do to improve the institution.