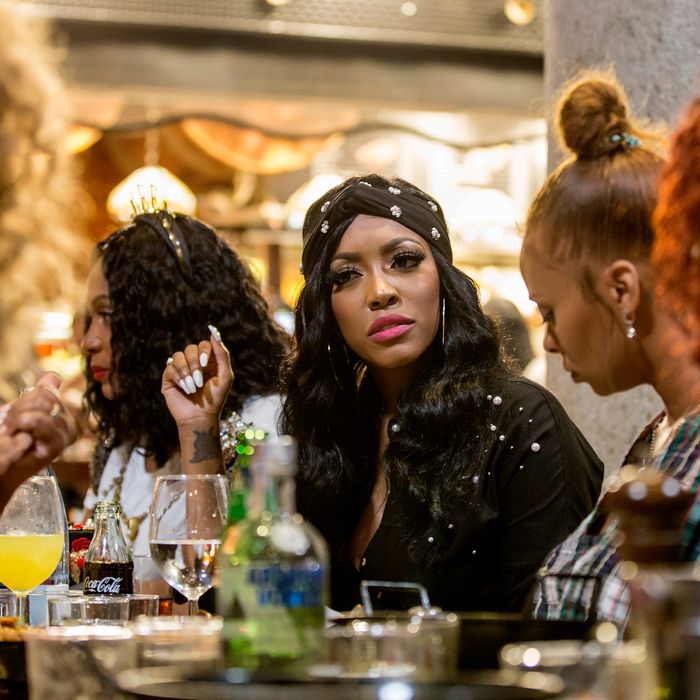 Photo: Xavi Torrent/Bravo
I like to imagine that Kim Zolciak-Biermann draws her strength from the amount of shade and drama that's generated in the world. She's like Ares in Wonder Woman: Wherever there is shade in the world, wherever there is a drama, wherever someone snaps a fan closed, Kim feels her power grow stronger. She has been lying in wait, but she felt herself becoming weak. So, she unleashed a text message and a video unto the Housewives. She's somewhere with Kroy, rubbing her feet and feeling her powers grow. Even though the rest of the Housewives are halfway around the world, the real power player is Kim.
Eva wakes up before all the other women and walks around the villa offering everyone coffee. The ladies aren't quite awake and camera-ready yet. Tyra obviously taught Eva how to be model ready without any makeup. #RawBeauty. Eva isn't used to the shade that gets thrown around and she doesn't think the trip is cute. Another thing that isn't cute is Shereé's bed. She says she's feeling like Tyrone is sleeping better than her. None of the doors on the rooms lock and Cynthia ended up sleeping with NeNe to feel safe. The ladies all had a twerk party at 3 a.m. because nothing squashes beef like a platonic booty-shaking session.
Everyone makes their way down to the breakfast table (except for NeNe) and they all talk about what drama could befall them. There's still tension between Marlo and Kandi, but they can both agree that taking pictures and videos of "water bugs" in someone's bathroom is crossing a line. Kandi doesn't want to cuss out someone's kid, so of course, the parent has to deal with it. They send the whole issue up to the shade tribunal to figure out who should catch these hands.
Meanwhile, Eva is still feeling a type of way about Shamea asking her about her dalliances in the lady pond. Eva is not wrong. Mainly because of the way this group is obsessed with anyone who has any same-sex interest. It's used as a joke and as a weapon. They're both incredibly titillated and disgusted. Eva says that unless she brings something up, it's not going to be up for discussion. Especially since HER BOYFRIEND IS RUNNING FOR PUBLIC OFFICE. EVER HEARD OF IT?
NeNe comes down to breakfast and informs everybody that they'll be going to a hotel by the end of the night! The ladies are ecstatic and head out to go-karting around the city. On the van ride to the go-kart place, Cynthia wants some updates on the 50 Cent Birthday Bucket List. Marlo posted a video of herself twerking in a thong … which was not part of the challenge. Cynthia says that she'll accept any off-the-list challenge and Marlo tells her to kiss someone. Cynthia tries to kiss Kandi and just Porsha offers. What is happening.
It's time for a little sightseeing and speeding around the city in go-karts, which looks extremely fun. Of course, Porsha finds a way to crash her kart. The best part of the sightseeing day is Cynthia's T-shirt where she's added herself to a list of iconic models … in Sharpie.
They head out to dinner later that night because in Bar-thay-lona, they eat dinner late at night, sometimes not until midnight. They all sit down and order as many seafood dishes as they can. Porsha backslides in her veganism to eat some octopus. NeNe launches into another monologue about how wrong Kim is and how no one has roaches anymore. No, NeNe. People still have roaches. Porsha keeps trying to ingratiate herself with NeNe by saying how all of Kim's comments were below the belt and NeNe turns her attentions to Shereé. What did Shereé know? When did she know it? Does it go all the way to the top? NeNe knows that, like Kim, Shereé is a wig and wigs gonna stick together. Marlo wants to know if Porsha is going to tell Kim that she was wrong because Porsha was on that phone call too and is becoming closer friends with Kim.
Porsha says she's not going to get between Kim and NeNe. Sure, bitch. Marlo won't take that answer and keeps asking Porsha what she's going to do about the whole situation. Then this whole day takes a sharp left turn when Marlo gets really intense. Marlo starts unloading on Porsha about everything that's fake about her: her veganism, her booty, her lashes, her hair. Porsha tries to keep throwing it back at Marlo, but once Marlo has been unleashed, there's no stopping her. She starts making fun of Cynthia's Ikea furniture, but at least Cynthia is upfront about that Fyrkantig. Marlo says that Porsha's doormat should be a little bit bigger and apparently, that's a bridge too far.
Porsha starts CRYING after Cynthia jokes about her doormat and Porsha, this is too much. Apparently, her mom bought her that doormat and it has sentimental value. It's just all too much about a doormat. Marlo then snaps, "You weren't crying like that when you told those lies on Kandi." It's really hard for me to root against Marlo when she says stuff like that. Kandi says that until Porsha really owns what she did, everyone is going to keep using it against her. Porsha keeps putting her fan in Marlo's face and Marlo snatches it away and they almost start a fight in the middle of the tapas restaurant. The group splits them up and they take separate cabs home. We review the footage to see exactly who was at fault: Marlo started the verbal, but Porsha came in with that physical.
They all head back to the villa to get ready to head to the hotel and when Porsha arrives back at the hotel, she's just broken down and tired. Shamea is unable to make her feel better, so Porsha goes to pray at the altar of NeNe. She feels like she keeps putting herself out there to get closer to the women, but they throw what she did to Kandi in her face.
Listen, Porsha: I can sympathize that it's tough to be on the outside of a group, but this isn't just a bunch of personalities not meshing. You accused Kandi of rape. Like … people can't trust you. A few vague apologies aren't going to cut it. No one will trust you until Kandi does and Kandi isn't having it.
Whatever the situation or the relationship dynamic, NeNe says the best thing might just to be say, "Hey, y'all. I fucked up," and everyone will be able to move on. Porsha doesn't seem exactly comfortable with that option, so she's going to go home. Are we going to lose two Housewives this season?