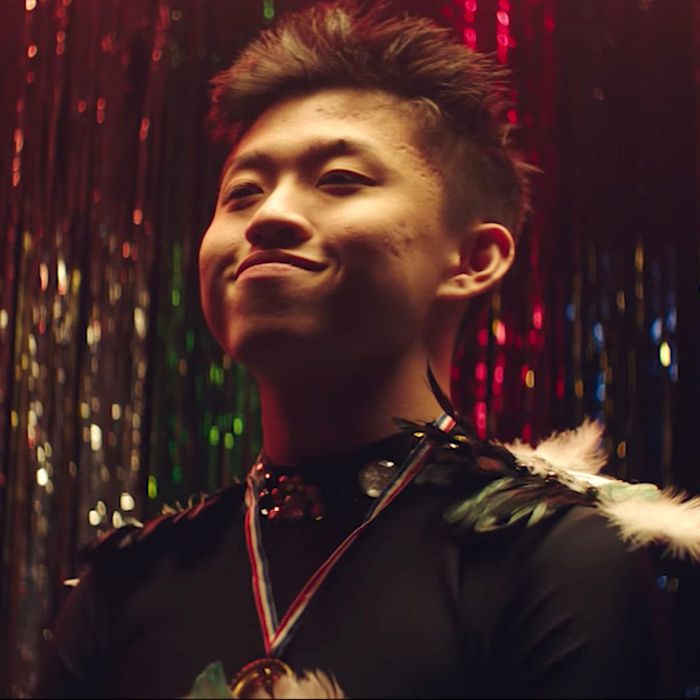 There are only five more days until the closing ceremony of the 2018 Winter Olympics, but if you want documented proof of the power of figure-skating fever, it has arrived today. Ascendant Indonesian rapper Rich Brian dropped a new video for the single "Cold" off his recently released album Amen, in which heads to the rink for some late-night practice, laces up, and soars across the neon-blue ice while rapping his own song. Who needs quads when you're scoring these kinds of artistic points?
Of course, Brian isn't skating the routine himself, but his body double is Jimmy Ma, a.k.a. pre-Olympics MVP and viral sensation Jimmy Ma, whose U.S. Nationals routine to DJ Snake and Lil Jon's "Turn Down for What" righteously took the internet by storm last month. If you haven't already bought your Jimmy Ma stock, now is the time. (Moonlight director Barry Jenkins knows what's up.) And if every rapper has a figure skating alter ego (which, duh, of course they do) Ma is almost certainly Brian's.
As if that wasn't enough bait for skating geeks, the video is clearly a tribute to the wildly popular anime Yuri!!! on Ice — Brian's black, feathered costume is pretty much a direct cosplay of the title character's. Yuri's influence had already been felt this Olympic season when a Japanese pairs couple skated to a piece from the series, and I predicted that the anime would rear its head again before the Olympics were over — I just wasn't expecting it in this cinematic a form.
Rich Brian, f.k.a. (the unfortunate) Rich Chigga, has been steadily gaining cred as more than just a viral novelty act since his first internet hit "Dat $tick." The "Cold" video is impressive in how aesthetically committed it is — embracing both a sport and an anime series that not many hip-hop artists would choose to throw themselves into, and making the crossover look like a tough, totally dynamic no-brainer. Between Ma, Adam Rippon, Nathan Chen, and double gold medalist Yuzuru Hanyu, it's arguably never been cooler to be a male figure skater, and Brian's right there with them. They were born to make history.