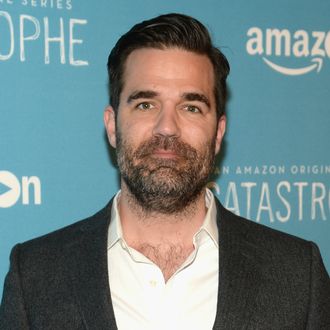 Delaney.
Photo: Mark Sagliocco/Getty Images
Actor Rob Delaney took to Facebook Friday to reveal the details of a private family tragedy: the death of his son Henry from a brain tumor. The Catastrophe star described the toddler's struggle with cancer, which was diagnosed around the child's first birthday. While the tumor was removed in early 2017, he explains, the cancer returned this past fall and Henry died sometime last month.
Delaney writes, "Henry was a joy. He was smart, funny, and mischievous and we had so many wonderful adventures together, particularly after he'd moved home following fifteen months living in hospitals. His tumor and surgery left him with significant physical disabilities, but he quickly learned sign language and developed his own method of getting from A to B shuffling on his beautiful little bum." Says the actor, "His drive to live and to love and to connect was profound."
Delaney went on to thank the medical professionals and support staff of the U.K.'s National Health Service for being "heroes" for his family. Wrote the actor, "I am astonished by the love-in-action displayed by Henry's mom and his brothers. They are why I will endeavor to not go mad with grief. I don't want to miss out on their beautiful lives. I'm greedy for more experiences with them." You can read the full Facebook post below.