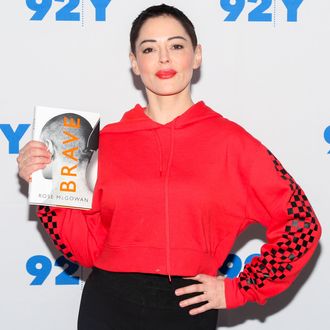 McGowan.
Photo: Maricela Magana/ Michael Priest Photography
During Rose McGowan and Ronan Farrow's 90-minute talk at the 92nd Street Y Thursday night, McGowan alluded to a powerful man in Hollywood that sexually abused her. This time, she wasn't talking about Harvey Weinstein, who she has accused of raping her in 1997, but another man. "You told me that, even long before the Harvey Weinstein incident, you recounted to me that there was a statutory rape by a prominent man in Hollywood," Farrow said. "Yes, and I didn't process that until — well, I'll get to him," McGowan responded. When Farrow asked if that was a story McGowan was willing to tell, she demurred. "Right now? In general, sure. Right now at this moment? I've had a big day. It would make this night very spectacular, I assure you. But let me tell you: He worked for my rapist and won Oscars."
McGowan then recounted an alleged statutory rape, saying a "very famous" director picked her up when she was 15 years old. "He took me home, after he met me, and showed me a soft-porn movie he'd made for Showtime, under a different name, of course … And then he had sex with me. And then he left me next to Tropical in Silver Lake, standing on a street corner," McGowan said. She only realized recently that the encounter would qualify as a statutory rape: "I'd been attracted to him, so I always filed it away as a sexual experience," she began. "Two weeks after your [New Yorker] story came out, I'd processed it, but I removed myself from it." Now, McGowan says she feels comfortable labeling it as molestation or statutory rape. Farrow confirmed that McGowan had previously revealed the man's identity to him off the record, but that McGowan would name him publicly when she was ready.