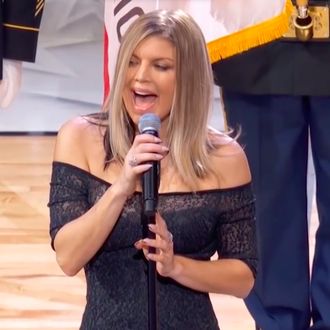 The year was 1990. The city, San Diego. The sport? Baseball. Roseanne Barr decided it would be a swell idea to grab her crotch while shrieking the national anthem as a means of an off-kilter comedic interpretation, a decision that subsequently lead many people to dub it the worst anthem rendition in our country's history. That is, until Fergie came along — the Black Eyed Peas songstress belted out a very strange, very Monroe-ian "Star-Spangled Banner" at this year's NBA All-Star Game, and the social media backlash, and general confusion, was swift.
Among the people questioning Fergie's sonic strategy was none other than Barr herself, who believes her '90s national anthem was of a much higher quality. "Who saw Fergie's national anthem performance at the NBA All Star Game?" she tweeted. "I think mine was better lowkey." She also retweeted a meme that mocked Fergie's rendition.
Well, at least both of them weren't boring.