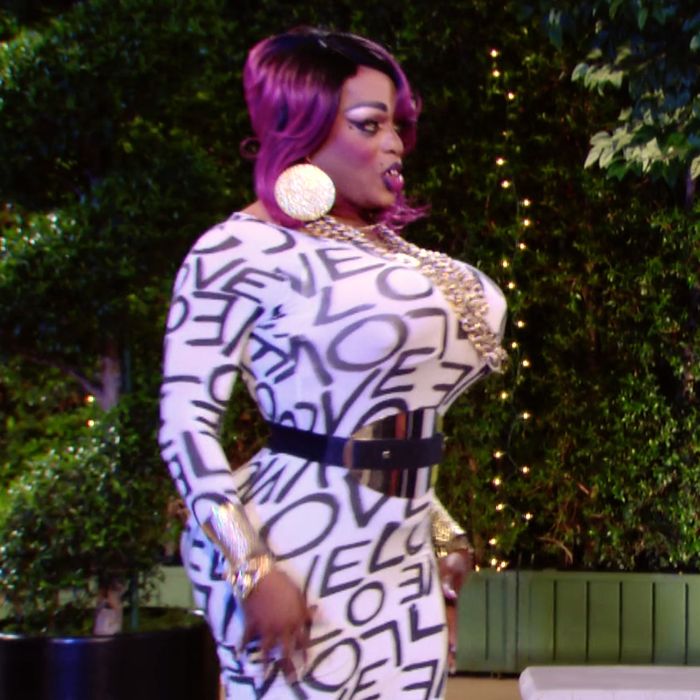 RuPaul's
Drag Race.
Photo: VH1
Just when you think RuPaul can't give more than she already has, we're given the incredible gift that is "The Bitchelor." Putting together the queens of RuPaul's Drag Race All Stars and the absurd romance of The Bachelor is an idea so genius, it's upsetting it took this long to happen. With the Bachelor-industrial complex reaching new heights complete with spinoffs, an Emmy-nominated drama, and national scandals, the only thing left was a drag parody. The gowns! The drama! The fake hair! "The Bitchelor" has it all. Part parody, part homage, and part fever dream, it is simply an amazing journey.
RuPaul's Drag Race All Stars is here for the right reasons, but if we're being honest, every single moment didn't hit the mark. Let's dive into the hits and misses of "The Bitchelor" to figure out what it got right and wrong about The Bachelor.
What Drag Race got right
The catchphrases
The Bachelor has its own indecipherable language, so it's fitting that this week's RuMail is Bachelor-esque catchphrase word vomit: "Hey, can I steal you for a second? I'm starting to feel a real connection, but for this relationship to go to the next level, I need you to open up." Of course, The Bachelor could learn a lesson or two from RuPaul about turning a catchphrase into a song, a T-shirt, and/or a WOW Presents web series. If Lucas "Whaboom" Yancey had been under Ru's tutelage, we probably would all be shouting "Whaboom, bitch!" at each other over brunch.
The hot tub
Perhaps the most accurate moment is when Shangela and Chi Chi DeVayne splash around with the Bitchelor in a hot tub. Who could forget the iconic date where Ben "Oatmeal" Higgins and Caila went on a date in a hot-tub store with Kevin Hart and Ice Cube? You know, true romance. Are there more tub-based challenges in the Drag Race future? Better get that waterproof mascara, queens.
The drinking
What made Stacey Elza shove a pair of underwear in the Bachelor's pocket? What made Jordan Branch twerk upside down? What made Alexis a shark-ass bitch? What's always fueling all the drama behind The Bachelor? ALCOHOL! Alcohol is the ladytestant that never gets eliminated. Whether it was Ben DeLaCreme falling out of the limo with a wardrobe malfunction and a Cosmo in hand, or Kennedy Davenport pulling an entire bottle of vodka out of her hip pads, "The Bitchelor" just wouldn't have been a Bachelor parody without a Champagne toast and a sloppy drunk passed out in the corner.
What Drag Race got wrong
The honesty about sex
Explicit sex talk is verboten on The Bachelor and most of its spinoffs. The Bachelor exists in a universe where the height of intimacy is a kiss under some fireworks while an unknown band plays a country song and you're only allowed to have sex in a fantasy suite, which is sometimes an ice hotel in Finland. But "The Bitchelor" flipped those puritanical ideas a middle finger with a sequined press-on nail. Shangela and Chi Chi imagined themselves in a polyamorous "throuple" looking for a sperm donor, and then assessed the testicle size of the Bitchelor himself. RuPaul got the final eggplant after visibly lusting after the lead. Kennedy Davenport said her favorite thing about Jeffrey Bowyer-Chapman is, and I quote, "That dick." You won't see anything like that on ABC.
The age-appropriate partners
One thing "The Bitchelor" got wrong is the mere presence of a woman who's old enough to run for president. This season, Arie Luyendyk Jr. has drawn ire for eliminating all the women in their 30s while giving out roses to 22-year-olds. But it's not just Arie: Women aged 35 and up are few and far between on The Bachelor. Now, it's unclear exactly how old Ben DeLaCreme's cougar alter ego is supposed to be, but she was definitely of drinking age when "Supermodel (You Better Work)" hit the dance charts. She made it to the top two this week, but sadly, Ben DeLa wouldn't have made it past ABC's casting call.
The diversity of it all
On The Bachelor, contestants of color are often painted as villains or eliminated before they can go to a romantic destination like Sioux Falls. The leads of the franchise have also been whiter than Sharon Needles's foundation: In 34 seasons, there has only been one Bachelor or Bachelorette of color. So strangely, one of the things that "The Bitchelor" got wrong about The Bachelor was that it was too diverse. The Bitchelor himself was played by Jeffrey Bowyer-Chapman of Unreal. Of the eight queens who eagerly waited for an eggplant, more than half of them were people of color. Come through, diversity!