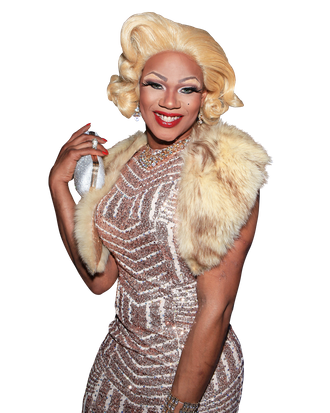 Spoilers ahead for RuPaul's Drag Race: All Stars 3.
The moment Chi Chi DeVayne walked into the season-eight workroom wearing a trash-bag dress was the moment she walked into all of our hearts. Unfortunately, le bon temps of All Stars 3 have all rolled out for one of the most irresistibly likable contestants in Drag Race herstory.
On Thursday night's episode, BenDeLaCreme and Shangela were jointly crowned winners of their lip sync to "I Kissed a Girl," meaning they each had the power to send a competitor home — but they both chose to eliminate Chi Chi, who'd landed in the bottom three every week. The next day, Vulture caught up with the bayou queen about baton twirling, the Snatch Game impressions she wishes she'd done, and her edible Sweet Tart earrings.
Your exit from All Stars 3 was incredibly gracious. Was it a relief to go home?
Most definitely. Just being on the bottom every week — I mean, I'm a real person. I knew when it was my time to go, and I knew I got a little bit more work to do. I was kind of ready to go.
Why did you choose Maya Angelou for Snatch Game?
To be honest, I had no idea who I was gonna do for Snatch Game. [Laughs.] What drew me to Maya Angelou is she sounded similar to Eartha Kitt. I really don't do celebrity impersonations at all. I don't know what made me pick Maya Angelou. Now I see a couple of other people that I probably would have done a little bit better.
Who are you thinking of?
Either Tiffany Haddish or Cardi B. I think that would be more in the realm of Chi Chi, in the ghetto realm. [Laughs.]
You posted on Instagram that your baton performance was inspired by the Alcorn State University Golden Girls. Can you tell me more about that?
In high school, I was in the band and I was a percussionist, but I always used to watch the girls dance. I used to want to be on the team so bad. I just wanted to pay homage to some of the things that helped create Chi Chi.
I was blown away by a clip of you singing on the Drag Queen Christmas tour. Did you ever consider singing on Drag Race, or even recording music?
I have, but I'm just a lazy drag queen. For a long time, I didn't know if my voice was trained — I didn't know if my voice would be able to cross over into my drag. I've been singing since I was like 7 years old in the choir at church, so I do have a little bit of a voice. I was just afraid to show that part of me.
Do you feel less afraid now?
Oh, most definitely. The tour has opened my eyes. I was getting standing ovations and I was like, "Okay, that's what I need to be doing." Just keeping it fresh.
The moment when you ate one of your earrings during your workroom entrance might be the GIF of the season. Was that really a Sweet Tart? What happened?
I'm just goofy like that. That was a plan B: I forgot my earrings at home and I had to run out to the store and glue Sweet Tarts onto my ear. I was pulling it off and I was like, "Hmm, I'm a little bit hungry, so … I'm just gonna eat this thing." [Laughs.]
Who are you rooting for to win?
Everybody knows I'm rooting for Kennedy! But Trixie is a close second. I really like her and she's really talented. I think it's gonna be either Kennedy or Trix.
You had some incredible runways this season — your "Wigs on Wigs on Wigs" look was next-level gorgeous. How do you think your has fashion evolved since season eight?
Like I said, I've always been a lazy drag queen. I'm actually a boy and I hate dressing up. [Laughs.] I don't hate it. It's fun, but it's not something that I like doing all the time.
If you go back into some of my old stuff, old pictures from when I first started doing drag, I have some amazing drag looks. It's just hit or miss for me. Now I realize that this is my career, I'm just paying more attention to the smaller details, and also paying attention to some of the newer queens because their drag is what is appealing to the audience. So I'm keeping my eyes out on, like, Aja and Milk — to keep Chi Chi current and not just ball gowns and dance costumes.
You've brought much-needed conversations about money to the world of Drag Race. What advice would you give to aspiring drag queens who don't have the budget for a designer wardrobe?
I would tell them to get creative with it. That's how I did it: I used a lot of paper and popsicle sticks. Tear up some video tapes and take the tape out. Just look around the house and see, "Oh, I have ten of those. I can use that for a costume." You have to be smart when you don't have the resources. Get artsy and craftsy.
This interview has been edited and condensed.