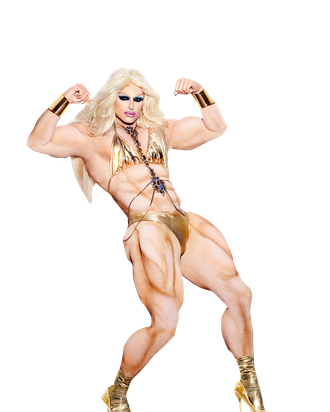 Spoilers ahead for RuPaul's Drag Race: All Stars 3.
It turns out Milk does have an expiration date. Thursday night's episode of RuPaul's Drag Race All Stars 3 proved to be the last for the high-fashion muse to Marc Jacobs and Vivienne Westwood, who made a distinctly diva-ish impression on fans when she cried about being "safe" last week. Knocked by the judges for her one-note performance as a "psycho stalker" contestant on The Bitchelor, a truly transcendent Bachelor parody, Milk was shocked to find herself in the bottom three — and even more shocked when winner Kennedy sent her home. On Friday morning, Vulture rang up the dairy queen to find out how she feels about Kennedy, her dreams of an all-denim drag runway, and her tips for successful MySpace seduction.
Hi Milk! How did you spend last night?
I was performing in Cincinnati at the Cabaret with Hard Candy Presents and it was amazing. A bunch of my friends who live in Cincinnati came out. It was great to see them, to be surrounded by some good friends after an episode like that.
Were you surprised that you got the villain edit?
Yeah. In the beginning, I was just like, "Wow, look at what's happening to my character on television!" You really have to look at it from the perspective of — it's entertainment. It's reality TV. If you're boring, they're going to read you. If you're a villain, they're going to read you. So you're damned if you do, damned if you don't. I mean, it was good television. [Laughs.]
I saw you posted the "Spoiled Milk" T-shirt on Instagram. I thought, "She is taking this in stride," which is exactly what I would expect.
Yes! I think the best way to deal with criticism and combat it, really, is just to be in on the joke. As drag queens, we're already in on the joke of gender and gender expression. To be able to laugh at yourself is just golden.
I know you took some flak for the tears you shed, but as someone who even cries about commercials, I sympathized. Do you consider yourself a crier?
Yes, I am. For sure. [Laughs.] I'm a very emotional person. You can ask any of my friends. Ask my boyfriend — he will attest that I love to cry. I'm very comfortable showing emotion.
When you saw these last two episodes, did you still feel that you deserved to be on the top?
With these past challenges, I know I really did my best. And that's what I went into All Stars 3 to do. The cards landed as they fell, but I still was very entertained with all of my performances. As psycho stalker No. 1 and Celine, I thought it was great.
There was obviously tension between you and Kennedy in the workroom. Do you think that's why she sent you home?
As the queens on All Stars, we all tried to come to a consensus as far as how we would eliminate somebody, given the power. It's still an emotional moment for everybody, coming off a challenge and having to do a runway. It's all this anxiety and all this pressure, and people will make the decision that they make in the moment. Yeah, it wasn't seen as looking at track record. She made the decision she made, but we're friends through and through.
Congrats on walking in the Perry Ellis NYFW show, by the way.
Thank you! After leaving season six, I really worked my butt off and toured and got the chance to meet so many amazing, creative people that have inspired me for so long. I know, and I think all of us All Stars girls know, that we have a career outside the reality-TV show, but it's thanks to the reality-TV show. We're all grateful for that. I'm just happy to be able to continue on with my work in the fashion world, but also my work in the activism world, being a queer boy who is able to speak out against queer atrocities.
This week, "Wigs on Wigs on Wigs" was a Roxxxy Andrews tribute. Trixie joked about a crying challenge in your honor for a future season, so what sort of Milk-themed runway would you want to see?
[Laughs.] Well, when I came into the workroom for All Stars, I was wearing a denim look made by my friend Marko Monroe. It was sort of an homage to my Pinocchio look from season six. I know I'm not the first girl to wear denim on Drag Race ever, but I would love to see an all-denim runway — not necessarily Milk-themed. I think that'd be so cute.
Who are you rooting for to win?
Hmm, who do I want to win? I was so happy to compete with my season-six sister Ben. She's doing an amazing job. Trixie's my homegirl. I really, really love her. Even Kennedy. I know she eliminated me, but I was rooting for her on season seven. I thought she was this beautiful pageant girl who could dance the house down. So talented.
I mean, there's so many amazing queens on this show. I know it's cliché to say, but it truly is hard to decide just one. Just split it all up! Split the $100,000 between the ten of us.
We didn't hear too much about it on the show, but you mentioned that you stalked your boyfriend on MySpace. Please give us your social-media seduction advice.
That was great, seeing him on MySpace before actually meeting him and being like, "Oh, I wanna get this man in bed." I just happened upon him. I forget how MySpace works, or worked. There was an "explore" page or something where random people popped up in your area. I saw him and I immediately was infatuated. My advice is: Just get cute. Don't get crazy.
This interview has been edited and condensed.