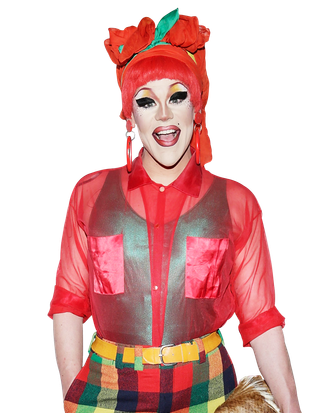 Spoilers ahead for RuPaul's Drag Race: All Stars 3.
On Thursday night, Thorgy Thor — last seen on Drag Race season eight — became the second queen eliminated on All Stars 3, emerging as this year's Inner Saboteur. This week's episode saw the contestants perform a VH1 Divas Live tribute in honor of Mama Ru. Thorgy was asked to lip-sync as Stevie Nicks, an assignment she considered unfair in comparison to the likes of Shangela's Mariah Carey and BenDeLaCreme's "Call Me Mother"–rapping Julie Andrews, who were named the top two. Winner Shangela ultimately chose to save her friend Kennedy Davenport, leaving Thorgy to sashay away. Earlier today, Vulture caught up with Brooklyn's beloved fashion clown to discuss Stevie, Geminis, and lipstick dicks.
Hi Thorgy! How was your viewing party last night?
It was great, thanks for asking! It's funny, I did one every single episode of every single season since my season, and now I've actually experienced getting eliminated in front of a live audience. I like, no pun intended, that I have the balls to do that, because all the other girls stay home. They're all scared. I'm like, "Listen, we already did it. Just be there." And my audience really had no idea. [Laughs.] When I was finally eliminated, I turned around, and they were like, "What?!" They really didn't expect it. And I was like, "And I'll see you next week!"
I love the show, I love drag, I like to keep local. I got offered a bunch of different viewing parties this year, and I said no to all of them. I'm a Brooklyn girl — that's where I'm doing it.
I know you love Stevie Nicks, but if you could have switched assigned divas with anyone else, who would you have chosen?
If you laid out all of those divas on place cards in front of me when I was there, I would have picked Stevie Nicks immediately. And I would pick Stevie Nicks right now. I really would. She's my queen. That's it. However, I would've liked to have had a little bit more artistic control over the material on which I was being judged, because I did not write that horribly unfunny track.
In the episode, Aja said you should have leaned on the witch factor more. Looking back, do you wish you'd done Stevie differently?
We're only given a certain amount of time to do this. People think we have two weeks of rehearsals. We have, like, a day. And then we have paint, which takes three hours. I was like, "I'd love to wheel out there with a cauldron. Can we get a live crow?" Every challenge, when a queen makes a suggestion like that, the production will do their best, but really it's a time issue. But here it is: Even if I had a cauldron, even if I had a crow, I still would have been in the bottom two, because [the track] was horribly unfunny. It was also sandwiched in between the strongest ones in the pack. I'm not mad at the girls who did well — they did really well and they worked hard to do it. I felt like it was out of my control, and I did a great job based on that. It's frustrating when you don't have control of the artistic material you're being sent home on. I didn't write that! So how could you judge me?
"She's actually not a witch, she's just an eccentric Gemini" has to be one of the best quotes of the season. As a Gemini yourself, do you strongly identify with the sign?
Oh, absolutely. You know, when I became obsessed with Stevie years and years and years ago, I studied everything. I've watched every single documentary. I've watched every interview. The way she speaks and the way her brain works as well, I'm like, this is just so Gemini-istic of you — kind of manipulative and charming. It's how we get around, you know what I mean? We're creative people.
Once again, I would have picked Stevie yesterday, today, and tomorrow. I was upset with that edit, when they cut my sentence off when I said, "Stevie Nicks is not a gay icon." Because my full sentence was, "Stevie is not a gay icon who is being set up to win this challenge in a drag queen competition, amongst these, like, divas." Some people on Twitter really got at me: "How could you say she's not?!" [Sighs.] And I'm like, "Now I need to explain this."
After you were eliminated, you said you felt like you "deserve to stay a lot more" than some of the other queens. Were you thinking of anyone in particular?
For instance, in that challenge, they edited Chi Chi to look very, very, very good, but in rehearsals, I didn't care for her look for Patti [LaBelle]. I didn't care for her neon [runway look]. I thought it was really cheap and garbagey, and they lived for it. And I was like, girl, this is not good. This is beginner, amateur drag. Let's push these expectations a little bit. What are we judging on here?
I didn't think Milk was powerful that episode. I think her Céline [Dion] choice was — her performance was great, I just don't think it was one of the best. And if Kennedy didn't whip out that look at the end and be completely covered with frosted crystals, I would've said send her home, but she tried her best. But I still don't think her Janet was that good. We all learned that choreography and I nailed every step, but they didn't show that. So, that's my answer: Every queen should have went home except me. [Laughs.]
It's hard to believe, but I think you were the first queen to draw a lipstick dick on the mirror. That was an inspired choice. Did it just come to you in the moment?
Yeah! By the way, I love Shangela. I want her to win. She's brilliant. She can talk her way out of anything. She's an improv actor. And I had fun just being like, "Suck it, Shangella [sic]," because that's how my friends talk to each other. We're sarcastic. You know I love you, but you know I'm pissed at you, so suck it — and just draw a penis! Why not? I actually thought they were going to blur it out. [Laughs.] But they didn't!
This interview has been edited and condensed.