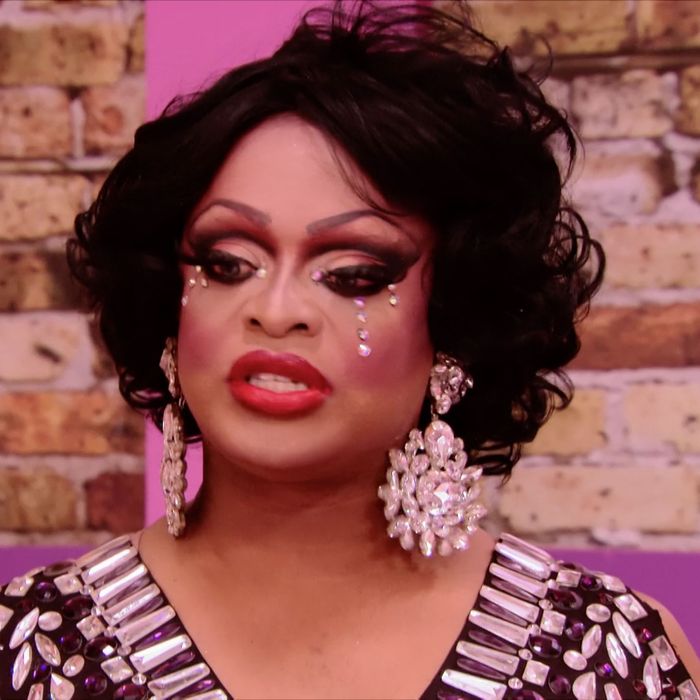 Imagine for a moment that you are Trixie Mattel. You are one of the most bankable stars of the RuPaul's Drag Race franchise, but not because you won or because you were even particularly favored by an edit. By your own gumption and pluck, you are one of the only contestants to move on to a television show of your own, The Trixie & Katya Show on Viceland. You also have insanely huge tits. For a post–Drag Race career, you can't really ask for much better, even if your performance on the show itself is universally considered to be bush-league. But then, on a marmalade-sky day filled with network meetings and Brazil booking offers, you get the call to come back and compete on All Stars 3, and the opportunity for RuDemption is so enticing that you breathlessly agree to appear on the show. Because now? You're unstoppable. You're a superstar. You've been the front-runner before the show was even confirmed. You have 900,000 Instagram followers, for Carly Rae's sake.
Is that not fucking terrifying?!
It bears repeating what Ben touched on in the beginning of the season: When you come back to this show with a sterling reputation, you've got a much tougher hill to climb. Someone like Aja is gagging us all the doo-dah day, not just because of how well she's performing week in and week out, but because, to be honest, she's got a low bar to clear. With Trixie on the other hand, not only are we keenly aware of what she can achieve, but we see her achieve it constantly in the outer world. There's a reliability there. You will never turn on The Trixie & Katya Show and not laugh, and by no means does Katya carry the whole thing. Trixie is a special breed of queen, and a comedian in the realest sense.
So what exactly happened during the Snatch Game on All Stars 3? We blame a mixture of pressure points surrounded by systems of even higher pressure, creating a perfect storm that would make Trixie Mattel — Trixie Mattel! — not funny.
Pressure Point No. 1 is Shangela, but out of drag. Trixie is a big personality, and we have a workroom full of those. But there's one queen who naturally drifts toward the proverbial center stage, and it's Shangela. Her discovery of a Thorgy-penned note with "Fuck this shady bitch Shangela" (classy) scrawled and addressed to Trixie was the exact fodder our Drag Mother of Dragons needed to spit the fires of conflict in her biggest competition's direction. And it apparently worked. Trixie is unfocused from the moment she's confronted until she's able to get (some) closure with Shangela later, explaining in a talking head that she simply cannot perform in Snatch Game with Shangela mad at her. Whether Shangela was actually ever that upset is up for debate, since her shrewdness in talking heads suggests a holistic view of how this game is played and won. She senses a moment of weakness in Trixie and manipulates it, leaving Trixie cracked, to use Shangela-speak. This results in a perturbed Trixie's preoccupation with issues unrelated to her task at hand: performing comedically as RuPaul herself.
Which brings us to Point No. 2: the clumsy decision to impersonate RuPaul. We see no issue with the obvious fact that Trixie doesn't look like Ru; this is Drag Race after all, a realm in which identity is crafted, worn, and thrown away each passing day. That being said, her impression clearly won't be dead-on by resemblance alone. Instead, Trixie needed to have an interesting take on Ru, and here's what's impossible about caricaturing RuPaul: landing on a "game," or a central funny idea that can be returned to and explored. Not only does the game have to be funny to begin with, but funny enough that there's a variable reward for the audience. Our guess is that Trixie found out too late (during the actual filming of Snatch Game, let's say) that there really isn't much to riff off of beyond a few shallow digs. You have the endless hawking of Ru's own products, yes, but then there's not much to expand or heighten that doesn't feel like a lateral move. Do you start making some Michelle Visage jokes, who's sitting right there? Maybe, but we get none of that. Do you whip out the puns? Sure, but almost all of Trixie's are bad. What probably felt like a good idea preseason — to gag RuPaul with a walking, talking Roast of Herself — was funnier in theory than in practice, and therefore didn't stand much of a chance of succeeding.
We have to chalk it up to that damn Inner Saboteur again. All of the queens are feeling pressed to be funny, but the grading curve is steep when you're Trixie Mattel. You are famously funny. You host your own comedy show. You make coin for this shit. Everyone's waiting to see your first Snatch Game because the kids are all gagged over how funny it's surely going to be. In a way, the pressure is highest on you, not just because your comedic bar is perched in the stratosphere, but because everyone assumes you'll handle the pressure with grace and aplomb. Then, just as your best-laid plans and charm offensives boost you up into a vault, out of nowhere your Inner Saboteur sneaks up and cuts you off at the knees. Suddenly you've expended so much energy worrying and very little working. You've forgotten it's about the work, and that's what ultimately lands Trixie in the bottom three.
Luckily, Shangela performs a mercy killing on Chi Chi, whose Maya Angelou is abysmally mixed with notes of her previously solid Eartha Kitt impression. She does give us the most endearing exit of the season, and it's nice to see a queen leave without destroying every ounce of goodwill she has left. Ben, also a winner of a delightful lip sync to Katy Perry's "I Kissed a Girl," votes Chi Chi out as well. It's another deserved win for both of them, because they understand that Snatch Game is won in the decision-making stage before the cameras start rolling. Success rests on choosing a celebrity whose personality quirks live close enough to yours that you can inhabit them believably. It's about choosing someone you can think as and, most importantly, someone you can react as. Shangela may as well be Jenifer Lewis and fully reenact her "For My Book" video. Aja has clearly watched hundreds of hours of Crystal LaBeija footage and made the choice she should have in season nine, though we would have been gagged to see her do Valentina. Bebe seems comfortable in her skin as Grace Jones and Ben … dear God, Ben.
If we're selecting a winner based on challenge performance alone, this would be a victory head and shoulders above the rest for Ms. DeLaCreme as Paul Lynde, an inspired choice that feels both completely surprising and delightfully fitting. Not only did Ben have jokes at the ready, she was Paul Lynde, already a game-show icon from the Match Game era. It's nothing short of brilliant, especially with the target audience in mind: Game-show aficionado RuPaul probably wet himself when DeLa walked on set. This performance not only solidifies Ben's front-runner status even further, but makes it clear that she's given one of the best Snatch Game turns Drag Race has ever seen. Brava.
Meanwhile, Kennedy's boring Phaedra Parks is barely practiced or prepared and is therefore not worth mentioning. A former Snatch Game winner, her performance here would be the most disappointing of the bunch if it weren't for the anticipation and eventual blue balls around Trixie's debut. Overall, we leave this week feeling like the competition has been both shaken up completely and also not at all. Ben and Shangela still reign supreme, Aja continues to pleasantly surprise, and Bebe keeps suspiciously skating down the middle. But we can now officially report that Kennedy's All Stars tenure is fully chaotic.
Undoubtedly, the story of the week is Trixie's journey to tearfully admitting her panic in front of the judges about being back in this environment. We feel (and deeply hope) that she'll turn it all around and be the Trixie Mattel we know and love, but as we saw with Thorgy, that Inner Saboteur is a crafty, shape-shifting mother who will get in if you let her. We hope Trixie doesn't, because there's a human being underneath all of that back-of-the-room paint, one who's finally shown how susceptible she is to pressure and near-insurmountable expectation. How she moves forward, insanely huge tits first, is entirely up to her.
Said the Bitch: A Weekly Quote Spotlight
Shangela: "[Famed psychic Miss Cleo] died a couple years ago from heart disease."
Marc Jacobs: "She didn't see that coming?"
… SAID THE BITCH!!! Also, we just want to remind everyone that Marc Jacobs, preeminent comedic mind, was in this episode for truly no reason. Fun!