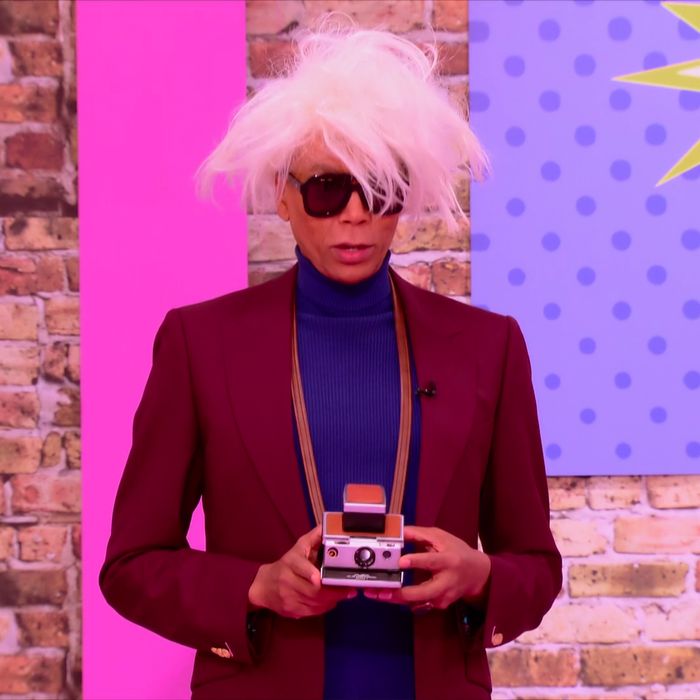 Evaluating drag, or any art form with a reality competition show built around it, is a rigorous exercise in subjectivity. Talk about it long enough with friends at a bar or on a Facebook group or in a Fire Island water taxi and you'll come across some truly wild opinions on the Race. "You thought Pearl deserved Top 3 in season seven?" "You really believe Peppermint was better than Trinity in that lip sync?" "You want Santino back?!" Disagreements abound once any discussion about drag-based merit breaks down into its subjective components, which an audience will then rearrange and prioritize at their own discretion until the water taxi docks and everyone shuts up about it and goes to an underwear party.
We've officially reached that fussy stage in the Drag Race season of getting granular with our remaining queens, and the things we like and dislike about them become exacting to a fault. As BenDeLaCreme points out at the top of this episode, the elimination rubric has been tossed out the window now that the girls can't take cover behind Chi Chi's presence as a lightning rod for critique. Going forward, even the smallest slipup is fatal, but "alliances" may finally start to pay dividends. Sort of.
Shangela checks in with a perturbed Trixie in the immediate aftermath of the previous lip sync, cultivating yet another entente in Shangie's strategy to become every queen's benefactor in order to have no risk of being eliminated. It makes sense in theory, but she'd need to win every lip sync for the rest of the season with a different mix of queens in the bottom for a totally foolproof path to victory. Until then, we'll have to watch her stretch out these Daenerys parallels until George R. R. Martin slides into her DMs, we guess.
Next day (after a cute mini-challenge!), a bewigged RuPaul by-way-of Andy Warhol reveals that we've arrived at the first true equalizer of every season (sorry, Snatch Game): the sewing challenge. It will never cease to amaze us that some queens come to the competition with no sewing skills whatsoever, hoping against hope that theirs will be the season in which the whole sewing thing gets skipped altogether. It's a little different with All Stars because the challenges have historically relied on performance, but still, probably a good idea to develop your staystitching skills a tad.
Historically a weak seamstress, Shangela's nerve dips a bit when the challenge is announced: to design a self-branded Warholian soup can and create a '70s-inspired Studio 54 look from scratch. But did you know Shangela took a two-month sewing class? She did! And she wants you to know! Meanwhile, Bebe whispers the words that are usually a funeral toll in this workroom: "I don't sew." This is surprising considering she's a title-holding victor of the show, although she did compete on a primordial mess of a first season that barely resembles what the competition is now. And so, Shangela and Bebe surprisingly emerge as candidates for the bottom two in the beginning of the episode while the other queens dutifully take to their rotary cutters.
Not pressed in the slightest is Aja, a skilled needlewoman who's confident and excited about her take on the challenge. With great pep she decides to go with a cute, sugary-sweet take on her soup brand to match her newly colorful image, and we understand what she's trying to do here: It's Aja 2.0, who's done pretty well for herself so far and has successfully shed her fiery, irritable stank from less than a year ago. Aja 2.0 is chill as hell, even when she's in the bottom three. Aja 2.0 wins mini-challenges. Aja 2.0 is great. But a fitting brand for her seems to be a matter of subjectivity once a couple of the other queens clock her for misrepresenting her spicy, pre–All Stars self. She's still sure-footed enough to have time to help Bebe construct her garments, so we're on board. Aja's proven a ton so far by sheer force of will and confidence, so what could go wrong?
Elsewhere, Trixie finally gets in her element and breathes a sigh of relief as she sews a French seam (we think). She then comes to Shangela's rescue at her machine, which doesn't ultimately do much to help once Shang realizes she picked the wrong non-stretch fabric. Ben makes do with a glue gun and moxie, and Kennedy just chills out at her station mostly unbothered. Classic Kennedy, for now.
What follows the next day as the girls beat their faces is a bewildering argument between Ben and Kennedy about best practices for eliminations. Ben, who is emotionally fatigued over potentially changing other queens' careers with her decision-making, hates the responsibility of choosing who goes home and proposes an empirical approach to evaluate the bottom queens. Kennedy has none of this and oversimplifies the whole situation by telling Ben, "Just play the game." It's unclear if Kennedy would stick to her method of taking "on- and offscreen behavior" into account from when she eliminated Milk, but all we know is that Kennedy is pissed at Ben for not shitting and/or getting off the pot, or something to that effect.
On the runway, Ru and the judges (joined by Pretty Unbreakable Liars Named Kimmy stars Shay Mitchell and Tituss Burgess) take a look at the girls' soup-can designs first. Aja traipses out in her "Sugar Tits" sweet (?) soup, Shangela goes for a "Halleloops" brand that's definitely flavored with low-hanging fruit, and Trixie goes for a rounded out cute-meets-twisted brand bio. For some reason Kennedy waddles in as a grandmother character, although she does get points from us for the catchphrase "Scrumptious with a Rumptious." Bebe reveals "Zaza," a tasteful homage to the flavors of her home country (but could you imagine if she did end up calling it "Achoo" like she said she would?) and DeLa's whole brand is that she's good at everything, which you can't really deny, like when Anne Hathaway had a string of amazing performances between The Dark Knight Rises and Rio 2.
It's our subjective opinion that everyone's Studio 54 looks were great, with the exception of Shangela's and a question mark on Bebe's. Aja gets a walloping from the judges for not being faithful to the era, which visibly rattles her sky-high confidence coming into the mainstage. Shangela looks bad, and Trixie is objectively correct in calling it one of the worst looks in the show's herstory. She nails her own Disco Barbie fish, and Kennedy's stunning makeup and hair do most of the heavy lifting for her look.
Michelle then fawns over Bebe's runway look and asks, incredulously, if she made it herself. Bebe then responds in the affirmative, to Shangela and Aja's shock, and lets the praise wash over her. We've seen just minutes ago that Bebe couldn't have executed her outfit without Aja's help, and it goes completely unmentioned in the moment. Bebe made the outfit, sure, but she didn't make the outfit. It's shady, and perhaps Bebe's first iffy moment of the season in terms of congeniality. It's not good behavior, no no! She earns top marks with Trixie, which should put those #BebeIsAMole conspiracy theories to rest, or maybe even complicate them more. Aja and Shangela place in the bottom two, and the girls get whisked off to deliberations.
Shangela goes into her one-on-ones unnerved, but overall she's pretty sure she's staying given her track record. She doesn't have to suck up to Kennedy just yet, and that alliance will kick in when she does. Her conversation with Trixie also has a pretty implicit understanding to it, and it would be damn near satanic of Trix to eliminate Shangela after being spared last week.
Aja, on the other hand, puts on a brave face for Trixie but then proceeds to get steamrolled by Bebe. There's no entry point in the conversation for Aja to potentially say something along the lines of, "Hey, remember when I saved your ass in this challenge you just won? Because you seem to have either forgotten on the mainstage or become a fucking rat-faced liar, so don't you dare choose me to go home, mmkay?" We're paraphrasing a hypothetical line here, but that's basically what Aja should have said to Bebe if she had the chance. When she joins the other girls back on the center couch, we see one of the most heartbreaking moments of the series when Aja says through tears, "I'm just trying to smile and have a good time. Sometimes it's just so hard." You can't help but feel for her. We, for two, will always stan for Aja.
There's a suspiciously long stretch of time devoted to Ben being peeved at the judges for assessing that she hasn't turned out a "120 percent" performance this week, and we're inclined to agree with her. Girl, we would still be winded after turning out a flawless "Call Me Mother" as Julie Andrews weeks before, and she may have deserved to win the whole thing right there. Give her a break! You sense that Ross has been prodded to put the pressure on Unbreakable Ben because, honey, it's down to the wire now, and small nitpicks are big deals. It's become so rote to see Ben in the top that to see her be simply safe, despite doing a decent job, is a blemish on her record. We sense a narrative developing here!
Back on the mainstage, Trixie and Bebe face off to a Diana Ross lip sync of "The Boss," and it's basically no contest with Bebe standing right there in a kaftan. She selects Aja to go home, and whatever justification for giving her the boot is shaky at best, including whatever the judges had to say. But that's just where we're at! Tough decisions have to be made, and who knows how this will be parsed out among the remaining queens as to what a post-midpoint rubric looks like.
And speaking of the season midpoint, what in Gilead's name does this Chad and Alaska appearance mean? Who are those three hooded queens? Will you be going to a Fire Island underwear party in the near future? All will be answered in due time, Under His Eye.
Said the Bitch: A Weekly Quote Spotlight
Trixie: "I wanna win the lip sync for once. On season seven, I lost a lip sync to Pearl. Do you know what it's like to lose a lip sync to a partially sedated twink from Brooklyn?"
… SAID THE BITCH!!! Trixie isn't above using her first redemptive moment to roast someone who isn't even on the show anymore. See, Thorgy, this is how you relitigate the petty drama from your original season.