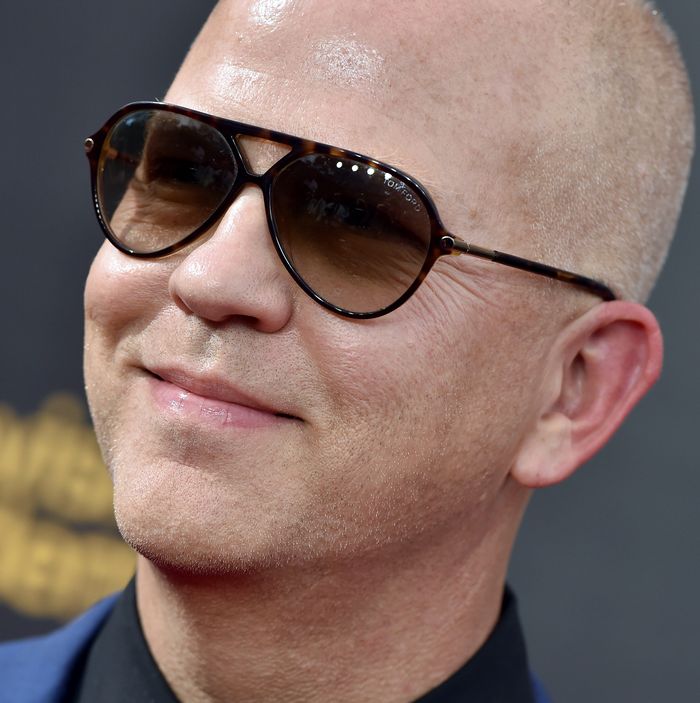 Ryan Murphy.
Photo: Axelle/Bauer-Griffin/FilmMagic
Netflix's Tuesday night announcement that it was signing superstar showrunner Ryan Murphy to a five-year overall deal came as no surprise to anyone in Hollywood. Bloomberg Businessweek reported back in December that Disney's pending purchase of 20th Century Fox TV, Murphy's longtime home, made a jump to the streamer highly likely, and Murphy's own remarks to reporters last month only served to back up the speculation. That the agreement was expected does not make it any less of a seismic event for the TV (and film) industry. Coupled with last year's megabucks deal for Shonda Rhimes, it's yet another confirmation of Netflix's relentless determination to dominate both the consumption and production of filmed entertainment no matter the cost. It will also almost certainly usher in a wave of even more blockbuster talent signings, both at Netflix and other media giants.
Neither Ryan nor Netflix were speaking to the press Wednesday, and Netflix hasn't gone into great detail about its overall deal strategy. But if the way it develops and makes programs is any indication, the template seems clear: identify huge talents from a variety of genres, give them lots of money, and let them go wild making stuff. Power creator Courtney Kemp summed up the likely future of talent deals for the streamer a few months ago: Asked by The Hollywood Reporter where she sees Netflix five years hence, she predicted it will be the place "where you go to find the separate hubs of great showrunners, like a Shonda hub or a [Greg] Berlanti hub." Rhimes, Murphy, and Netflix vet Jenji Kohan are all essentially their own mini-studios because they're known for both creating their own series and helping shepherd other scribes. The same is true for Mark Millar, the comic-book heavyweight who sold his Millarworld to Netflix last year and is now working to translate his expansive universe into Netflix movies and TV shows. Netflix isn't spending hundreds of millions just to get the rights to these writers' creative output, though that's a huge part of their lure. It also wants to woo all the other talent eager to work with Murphy, Rhimes, Kohan, and the other showrunners it will sign in the future.
This isn't a completely new way of thinking in Hollywood, of course. Overall deals have been around since the earliest days of the movie business, back when the so-called "studio system" had actors signing away their careers for years at a time. In TV, the stand-up comedy boom of the 1990s resulted in a frenzy of ridiculously overpriced talent deals as networks and studios hunted for the next Seinfeld or Roseanne. Netflix is simply supersizing the strategy with exorbitant talent valuations — up to $60 million per year for Murphy's TV and film services, per the New York Times, and around $100 million for Rhimes, per multiple reports. That sort of money — along with Netflix's paradigm-shifting distribution platform, where TV shows and movies launch around the world instantaneously — is forcing creative types to toss aside other considerations that usually govern where deals get done. Murphy, for example, had very close relationships with the heads of FX and 20th Century Fox TV. He told reporters last month that, until the Disney-Fox deal was announced, he thought he'd be "buried" on the Fox lot. Disney seemed poised to bring over those execs post-sale if it meant keeping Murphy with the new company. Instead, Murphy chose the money and the Netflix platform.
As noted earlier, this won't be the last megadeal to be made this year between a brand-name producer and a streaming service. Netflix surely has its eye on others, while Amazon and Hulu both have new execs looking to make their mark. Traditional media companies, including Disney, may also feel forced to break open the bank to ensure they're not left without any big names attached to their respective rosters, particularly as these legacy brands look to expand into streaming. So, who's next up in TV's newest arms race? Vulture talked to our industry sources, scoured the small-screen landscape, and came up with some possible acquisition targets for Netflix and its streaming rivals. We limited our choices to folks who've created or run multiple shows and who haven't signed a big new overall deal within the past year. This is why Black-ish creator Kenya Barris didn't make our cut: The prolific producer extended his deal with ABC Studios last May. (Other high-profile showrunners who recently were locked into deals include Jerry Bruckheimer, Carlton Cuse, Jill Soloway, and Damon Lindelof.) Our list isn't meant to be comprehensive by any means, but it does offer some insight into what deals may be ahead in the next few years as TV reinvents itself for the streaming future.
Greg Berlanti
The writer/producer/director known for everything from teen soaps (Dawson's Creek) and crime procedurals (The Mysteries of Laura) to building the super successful DC Comics extended TV universe, Berlanti is one of Hollywood's most prolific creative forces. He's had hits at multiple networks, with multiple genres, and next month will include the release of Love, Simon, which he directed. Given Netflix's mandate of being the everything-store for entertainment, Berlanti might be even more perfect for the streamer than Murphy or Rhimes. Amazon might also be very interested in Berlanti, particularly under new programming chief Jen Salke, who's worked with Berlanti and knows his ability to create heartland hits. And then there's Disney, itself looking to launch a Netflix rival in late 2019 once it completes its purchase of 20th Century Fox. Since its deal for Fox no longer includes the future services of Ryan Murphy, Disney might now feel inspired to step up in a big way for Berlanti. The bad news for anyone interested in making a play for him? Industry insiders say he's locked up at Warner Bros. TV, his longtime small-screen home, until 2020.
Ava DuVernay
How is it possible that no one has scooped up this triple threat for an overall deal yet? Yes, Netflix, we are specifically talking to you, since DuVernay is already producing a mini-series for the streaming giant and was nominated for an Oscar for her Netflix documentary 13th. DuVernay signed a first-look deal with her partner and mentor Oprah Winfrey last year, but there's so much more she can and will do. Named entertainer of the year by the NAACP last year, DuVernay is among the most versatile writer-producer-directors in Hollywood with her feet firmly planted in both the features world (A Wrinkle in Time, Selma) and TV universe (Queen Sugar).
Seth MacFarlane 
When Disney's deal for 20th Century Fox was announced, industry insiders immediately began buzzing about the future of two of the studio's biggest producers: Murphy and Family Guy creator MacFarlane. Now that Murphy has opted against joining the Magic Kingdom, it could make keeping MacFarlane in the fold all the more important for Disney chief Bob Iger. MacFarlane's 20th deal ends next year, but he's clearly gearing up to play hardball: In November — a few months after Netflix snagged Rhimes, and weeks before the Disney/20th deal was announced — the writer/actor left his longtime talent agency home at William Morris Endeavor. His new home? CAA, which just so happens to be the agency that negotiated Murphy's megamillions deal. It's far too soon to say where MacFarlane will end up, but it's hard not to imagine multiple streamers making a play for his services. He supervises a massive mini-empire of animated hits, his new drama The Orville has been a hit for Fox, and he's had big success in features. On the bright side for Disney: MacFarlane's huge library is headed to the Mouse House, even if MacFarlane ends up at Netflix or Amazon.
Whichever service loses the Seth sweepstakes won't have to look far to find other comedy showrunners who've had particular success in animated and dude-centric comedy. Mike Judge, an early innovator in the space with Beavis and Butt-Head, is currently focused on Silicon Valley. But as that show heads into its fifth season, Judge is no doubt looking for new projects to expand his empire (including a talked-about King of the Hill revival, which could be perfect for a new Disney streaming service). There's also Dan Harmon, whose Community struggled when it was on network TV but ended up seeding a slew of writing and acting careers. Harmon has found arguably a bigger hit with Rick and Morty, proving his chops in animation. He'd be a huge get for any streamer, assuming his confessed (and forgiven) sexual harassment of former Community writer Megan Ganz isn't followed by more revelations. Similarly, Hollywood agents are also buzzing about the possibility of a big deal for Bob's Burgers creator Loren Bouchard, whose pact at Fox expires this year. Bob's has overcome a slow start to become one of the biggest animated properties (and come 2020, it'll be a movie, too). Netflix almost certainly has his eye on him, but Hulu, where Bob's is also a big success, could easily make Bouchard the center of an expansion into original animated comedy.
Mindy Kaling
Kaling is already a pioneer of TV's great shift from linear to streaming, even if it wasn't by choice. When the Fox network (stupidly) pulled the plug on The Mindy Project, she and her partners at NBCUniversal moved the show to Hulu, where it lasted several more successful seasons. She's been a staple at NBCU since her days on The Office, and she's getting ready to launch a new NBC sitcom called Champions. But it's also worth noting the network passed on Mindy to begin with — that's how it ended up at Fox — and Kaling (along with Mike Schur) is known to have been flabbergasted by the company's decision to fire former Universal TV chief Bela Bajaria, who was beloved by many NBCU creators. Not that Bajaria's career suffered: She quickly ended up with a plum post overseeing licensing and unscripted series at … Netflix. While Bajaria wouldn't be an (official) part of any effort by Netflix to woo Kaling for scripted series, her presence there doesn't hurt. Landing Kaling would give Netflix one of the decade's sharpest comedy writers, who, like MacFarlane, has become a bona fide on-camera star and a media personality. She's also got a network of comedy writers eager to collaborate with her, and if A Wrinkle in Time is the big hit it's shaping up to be, the Kaling cachet will only grow.
Noah Hawley
TV's renaissance man cut his teeth on network television but quickly became synonymous with prestige TV after FX approached him about adapting Fargo for television. By the time Hawley signed his three-year-deal with FX Productions and FX Networks in 2015 on the heels of Fargo's Emmy-winning success, CEO John Landgraf hailed him as "one of the best writers and showrunners in television." Since then, Hawley, also a best-selling novelist, has created a second FX series in Legion and signed a deal with 20th Century Fox to make movies, including his upcoming feature directorial debut Man Alive, as well as Doctor Doom, Buried Bodies, and Pale Blue Dot starring Reese Witherspoon. Like Murphy, Hawley has proven he can attract A-listers to screens big and small, such as Billy Bob Thornton, Kirsten Dunst, and Ewan McGregor.
Nahnatchka Khan
For bringing an Asian family to a network sitcom that has resonated with all audiences — while making Asian viewers feel included in a singular way — Khan deserves anything she wants. The Fresh Off the Boat showrunner and veteran comedy writer (Malcolm in the Middle, American Dad) created her first series Don't Trust the B—- in Apartment 23 back in 2012. In addition to helming FOTB's fourth season, Khan has two comedy pilots in the works for ABC and NBC this season. Her overall deal with 20th Century Fox expires next year. Those many years of experience as a showrunner coupled with her special comedic touch with characters who feel relevant and current, whether they're alive or drawn, makes Khan a big draw for any of the streaming companies looking for something different.
Mike Schur
He's become the godfather of modern-day artisanal comedy, with a connection — as writer, co-creator, or exec producer — to some of the century's most essential comedies: Parks and Recreation, The Office, Brooklyn Nine-Nine, Master of None, and, most recently, The Good Place. His shows have also served as training grounds for future comedy-writing stars (including his Brooklyn Nine-Nine co-creator, Dan Goor, and Master of None creators Aziz Ansari and Alan Yang) and have helped launch a thousand acting careers (Aubrey Plaza, Chris Pratt, Nick Offerman, Retta, Billy Eichner — and that's just from Parks and Rec). Plus, many of those shows have taken off big time via streaming: The Office is one of the most popular half-hours on Netflix, per reports from multiple industry insiders; Parks and Rec seems to have become a bigger cultural phenom since it left NBC; and ratings for The Good Place ticked up after season one streamed on Netflix. Finally, Schur is someone other writers and actors really want to work with or for: Like Rhimes and Murphy, he's a massive talent magnet.
Jason Katims
The Titan of Tear Jerkers (and we mean that in the best possible way) will be free from his overall deal with Universal TV next year, and is a fine candidate for a big streaming deal. The veteran broadcast producer who made TV fans fall in love with the Taylors of Friday Night Lights and the Bravermans of Parenthood already helps to oversee Hulu's The Path and has a new NBC drama Rise premiering next month. Katims also knows how to multitask from show to show, navigate the fast-changing TV landscape, and he's got a special gift in writing characters of all ages and backgrounds with heart.
Marti Noxon
Noxon worked her way up the Buffy the Vampire Slayer writers room until she became one of the iconic show's executive producers. Since then, she's been slaying Hollywood as a writer-producer on some of the industry's most seminal shows, like Grey's Anatomy, Mad Men and Glee. In recent years, she co-created UnREAL, created Girlfriends' Guide to Divorce, and wrote and directed the Netflix film To the Bone. Noxon is also adapting the highly anticipated HBO series Sharp Objects starring Amy Adams and directed by Jean-Marc Vallée, and her three-year overall deal with Skydance expires in December. At a time when the empowerment of women is front and center, Noxon's penchant for creating strong female characters makes her a highly attractive candidate.
Lena Waithe
How hot is Lena Waithe right now? She won an Emmy for her brilliant writing on Master of None, she created The Chi (a Showtime drama that's been renewed for a second season), and TBS announced today that it's picking up Twenties, a comedy she wrote seven years ago about a queer black woman and her friends. Waithe may not have hands-on showrunning experience yet, but she more than makes up for it with her fresh perspective and unique voice.
Chuck Lorre, John Wells, and Dick Wolf
This trio of old-guard TV titans has nearly a century of showbiz experience between them, and all continue to have busy production slates. In the case of Wolf and Lorre, they've got huge and highly lucrative libraries at their current homes (NBCUniversal and Warner Bros. TV, respectively) that make moves to new streaming services less likely. (Murphy and Rhimes have impressive catalogues, too, but nowhere near as lucrative as these ones.) But a top studio veteran tells Vulture there's been buzz that Netflix's next big space to conquer is the procedural drama, a genre Wolf perfected with the Law & Order franchise and which Wells took to an art form with ER. Wolf will be 72 when his NBC deal expires and might not want the hassle of reinventing himself for streaming. But Wells (who's in the last year of an overall deal at Warner Bros.) is very well-respected among writers and directors, and has been moving into films of late. Netflix could let him explore both.
As for Lorre, Netflix clearly likes him: While the streamer did just cancel his pot comedy Disjointed after one season, it's still moving ahead with his single-camera comedy The Kominsky Method, which stars Michael Douglas. Lorre is a talent magnet with the best track record for a comedy producer since Norman Lear and Garry Marshall. Losing him would be both a massive loss for Warner Bros. and a major psychological blow to the broadcast TV ecosystem. All the more reason for Netflix — or another streamer — to back up one of their platinum-plated Brinks trucks.
*This story has been corrected to show that Love, Simon is not Greg Berlanti's feature-film directorial debut. He previously directed Life as We Know It and The Broken Hearts Club: A Romantic Comedy.