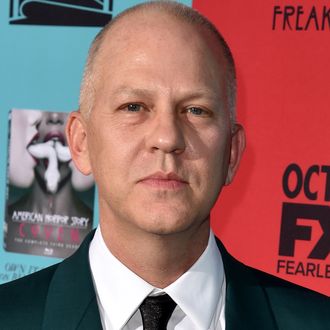 Murphy.
Photo: Kevin Winter/Getty Images
Ryan Murphy's days of creating buzz-worthy shows with 21st Century Fox are numbered. Netflix announced on Tuesday that it signed a multi-year deal with the television hitmaker to create new series and films exclusively for the streaming giant.
"The history of this moment is not lost on me," Murphy said in a statement. "I am a gay kid from Indiana who moved to Hollywood in 1989 with $55 in savings in my pocket, so the fact that my dreams have crystallized and come true in such a major way is emotional and overwhelming to me."
Murphy became one of the best-known television creators and producers working today through several series on Fox and FX. His hits under the Fox banner include Nip/Tuck, Glee, American Horror Story, Scream Queens, American Crime Story, and Feud.
His decision to leave the studio comes shortly after Disney announced its plans to purchase most of 21st Century Fox. Murphy told the New York Times last month that he was "very emotional" about the merger, citing his longtime relationships with Fox executives. It is unclear who will remain in their positions after the deal is completed.
According to the Times multiple studios were courting Murphy, whose contract with Fox is ending soon. The deal he signed with Netflix is reportedly for five-years and worth "as much as $300 million."