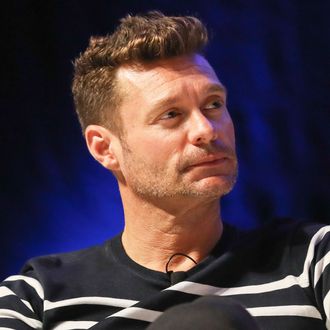 Seacrest.
Photo: Tony Barson/Getty Images for iHeartMedia
On Tuesday, Ryan Seacrest issued a lengthy response to a Variety report that exposed the multiple sexual-assault allegations made against him by a former E! stylist. He denied the claims and alleged that the accuser attempted to extort him. She's now speaking out to defend her story. Suzie Hardy reiterated to Variety in a new statement that it was Seacrest, not her, who made the allegations public and that she will not allow him to punish her for reporting him to his employer, or falsely accuse her of seeking money:
"I remained quiet for years out of fears that my story wouldn't be believed and that I would be subject to scorn and ridicule for telling it. I was emboldened by the bravery of others to finally and confidentially tell my story to NBC. Ryan elected to take the story public with a false narrative that he was exonerated and the victim of some sort of money grab. He is not the victim, and I refuse to let him victimize me for telling the truth."
On Wednesday, a witness who spoke anonymously to NBC News corroborated her story. "She would go to tie his shoe and Ryan would shove her head toward his crotch," the former co-worker said. "I saw that more than once." However, a separate source provided a video to NBC News of Hardy tying Seacrest's shoes that reportedly disputes the witness's account. The witness also says they once saw Seacrest hug Hardy inappropriately in his hotel room while she was getting him ready for the 2008 Oscars red carpet. "She yelled 'get off of me.' She was trying to get away from him," they said. "I could see an erect penis in his underwear." Hardy told Variety earlier this week that she believes E!'s investigation, which found insufficient evidence, did not interview at least four witnesses.